Altona Energy Plc Keeps The Faith, But Should We?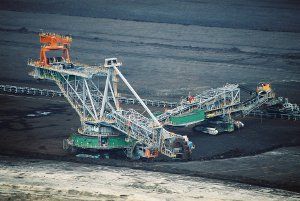 What a year it's been for Altona Energy Plc (LON:ANR) — or rather, what a year it hasn't been.
It hasn't been a year in which the company started coal mining in China to generate free cash flow, and it hasn't been a year in which it started exploratory drilling in Australia to provide the data needed for its Arckaringa coal-to-liquids/coal-to-methane project.
It has been a year in which the firm's share price has dropped by almost 60%
As the firm's Chairman, Christopher Lambert, described it in yesterday's final results announcement, "2013 has been a frustrating period for everyone connected with Altona".
The problem, it seems, is that Altona — which is completely dependent on its CNOOC, its Chinese JV partner — has collided with the immovable, opaque force of Chinese bureaucracy, and found it to be a painful experience:
We have worked diligently with CNOOC to progress the work programme.  However, we continue to be frustrated by the, often unexplained, delays.  Despite control of the project delivery being vested with CNOOC, as operator, the board has recognised that the CNOOC approach has created significant uncertainty and the lack of transparency is not sustainable.
Has it run out of money?
Strangely, no. Altona's cash reserves were down to £679,000 at the end of June, but that problem was dealt with thanks to a £3.2m, two-stage placing agreed with a Chinese company called Wintask Group Limited, which in turn is owned by the Chairman of a privately-held Chinese company called Hailang Group, which has a number of industrial operations, and owns patents and technology relating clean-burning coal boilers.
The first stage of this placing took place today, with Wintask purchasing 59.7m new Altona shares at 1.4p each — a healthy premium to today's closing price of 1.1p. The placing raised £835,000 for Altona before expenses, while the second, larger tranche of the placing will be subject to a shareholder vote, but is expected to complete by the end of the year.
Interestingly, news of the placement came alongside news that the firm's Managing Director, Chris Schrape, is departing with immediate effect. He won't be replaced for the time being, but Wintask will nominate a non-executive director to the board, thus altering the balance of voting rights. It's understandable that Altona's Chinese backers want to exert more influence over the firm, but it does make it clear the Altona, rather like Mwana Africa, is merely a UK-listed puppet, controlled by wealthy Chinese corporations.
Is there still an investment case for Altona Energy?
For private investors, I think the investment case is becoming slightly more unclear, although I remain convinced and plan to continue to hold my shares (see here for my original article explaining why I bought them)
Altona now has a market cap of around £6.5m, no trading income and no likelihood of any in the near future, unless the Duwa coal mine acquisition in China miraculously picks up pace  — unlikely, since the firm's due diligence has found that it isn't entirely clear who currently owns the mine…
Altona's Chinese shareholders and JV partners clearly value having a UK-listed company to front the Australian Arckaringa project, and deal with the Australian mining authorities on their behalf. That's understandable, on several levels, and it seems fair to assume that as a result, Altona will be kept afloat by Chinese money, until the project either comes to fruition, is sold, or is abandoned.
There's every indication that the Arckaringa CTL project is a viable, valuable opportunity, but after gaining approval for a exploratory drilling programme in July this year, CNOOC has not yet even selected a drilling contractor (if you want a laugh, take a look at Altona's original drilling schedule, published in July).
The completion of the Bankable Feasibility Study may yet be a year or so away, so private investors will need to have considerable patience and be prepared to continue being treated like the proverbial mushrooms.
Disclaimer: This article is provided for information only and is not intended as investment advice. The author may own shares in the companies mentioned in the article. Do your own research or seek qualified professional advice before making any purchase decisions.