Altona Energy Plc Says Methanol Production Could Give 18% Revenue Boost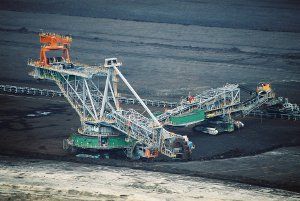 Micro cap coal-to-liquids firm Altona Energy Plc (LON:ANR) released an interesting announcement this morning.
The firm suggested that it could generate an 18% increase in future annual revenue from its Arckaringa coal resources in Australia, by replacing one of three planned 15,000 bopd coal-to-liquid (CTL) trains with a 6,200 methanol tonne per day coal-to-methanol (CTM) train.
This would have the significant added advantage of enabling Altona to reuse a large proportion of its CO2 emissions, for which it would otherwise have to pay tax or fund a carbon capture and storage scheme.
Today's announcement is backed by a technical feasibility study produced by 'the UK branch of a leading international engineering firm' and Altona now says it will submit the report to its Chinese joint venture partner, CNOOC, for its consideration.
According to Altona, global methanol demand has risen in recent years, especially in Asia, where methanol is increasingly used as a fuel additive and feedstock for a wide range of high value products, including acetic acid, Di-Methyl Ether, formaldehyde, olefins and gasoline. Methanol prices are now averaging $400 per tonne, and Altona's management believe that by using its coal to produce both methanol and synthetic petroleum products, it could increase future revenues and create an natural hedge against future oil and gas price volatility.
Good and bad?
Today's announcement was a mixture of good and bad news, in my view.
On the one hand, dynamic, opportunistic thinking is necessary when you are a small company dealing with a large project in a complex and sometimes volatiles commodities market. If methanol production delivered the promised benefits, it could prove to be a masterstroke.
On the other hand, I'm slightly concerned that Altona's management are making it up as they go along. Altona and CNOOC are beginning work on a Bankable Feasibility Study for the Arckaringa development and will soon need to commit to a definite proposed plan of development.
CNOOC's response to the CTM report will be interesting, as China's primary goal in making overseas investments in natural resources companies appears to be to secure future supplies of key commodities, rather than pure speculation.
It seems reasonable to assume that CNOOC has a good understanding of the Asian commodities market, and may — as the project's primary funding source — have a more conservative viewpoint, too.
Markets liked it
Whatever CNOOC think, investors liked the idea of a CTM plant boosting future revenues. Altona's share price was up by 50% at one point this morning and looks likely to end the day up by around 25%, at about 1.5p.
Now It's Time To Deliver
I look forward to further feedback on the CTM from CNOOC, but in the meantime there are two important events on the horizon for which the company has committed to a timescale.
1.) Altona said that it would complete due diligence on its acquisition of a producing coal mine in China within three months of June 27 — so we should expect something in September/October 2013. Successful acquisition of a coal mining asset is important for two reasons, in my view:
It should supply Altona with some positive cash flow it can use to fund its operations.

It demonstrates that the firm is able and willing to continue delivering against its original plan — and that its relationship with the Chinese authorities remains strong.
2.) The second item on the horizon is the start of the Arckaringa test drilling program, which will consist of seven boreholes totalling 1,678m of drilling, plus related testing. Altona expects fieldwork to be underway by October and completed early in the first quarter of 2014.
Successful completion of the coal mine acquisition and the drilling program should provide a major confidence boost for investors, in my view, and I would expect to see further movement in the share price if these two goals are accomplished.
Disclaimer: This article is provided for information only and is not intended as investment advice. The author may own shares in the companies mentioned in the article. Do your own research or seek qualified professional advice before making any purchase decisions.