Aquarius Platinum's CEO Quits - What Next?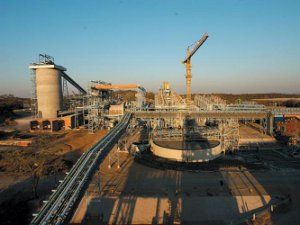 On Monday, Aquarius Platinum (LSE: AQP) announced that its long-serving CEO, Stuart Murray, had resigned.
No explanation was provided but the timing — coming at one of the lowest points ever for the industry — seems unlikely to be a coincidence.
So what happens next for the company, which I recently discussed as a possibly, albeit risky, value and recovery play?
What's Next?
There's always uncertainty when a CEO leaves unexpectedly, and this is all the more so with Aquarius. Murray was a big personality with an outspoken and direct management style and for most of his 10-year tenure, he was the only board level executive at the company. The company's shares are down 14% so far this week, highlighting the effect of uncertainty in an already troubled industry.
Murray is the third platinum boss to quit so far this year — hot on the heels of Impala Platinum's ex-CEO David Brown in January and Anglo Platinum's CEO Neville Nicolau in July.
Analysts seem uncertain as to what to make of this latest resignation — there's a flavour here — but agree that the platinum industry continues to face a grave combination of problems: weak demand, cost inflation and volatile industrial unrest. And that's before you consider the ongoing challenges of Zimbabwe's indigenisation programme and any possible equivalent in South Africa.
Is it still a buy?
I don't have much to add to the uncertain assessment of events, but I still believe the company's underlying assets are sound and its cash reserves mean it doesn't face an immediate funding crisis. Indeed, Murray expected the company to be cash flow positive in the coming year, assuming platinum prices didn't drop any further (and they haven't).
Despite this, Aquarius is unable to afford to complete its contracted Booysendale acquisition without additional fundraising, which could create problems.
Given the somewhat parlous state of South Africa's platinum industry at present, one possibility is that a degree of consolidation could be on the cards. Aquarius is the world's fourth-largest producer of platinum but in reality is the biggest of the small fish — suggesting that it could be swallowed up by a big player or perhaps arrange to merge with a smaller player.
There's still a lot to play for in South Africa's platinum industry — the country produces the lion's share of the world's platinum and demand can only shrink so far before surpluses are used up, excess capacity is trimmed and some degree of stabilisation returns.
Yet as Warren Buffett is fond of saying, it's only when the tide goes out that you see who's swimming naked. I suspect the tide is still retreating for South Africa's platinum miners.
Disclaimer: This article is provided for information only and is not intended as investment advice. Do your own research or seek qualified professional advice before making any purchase decisions.