Every Lidl won't help: Why Tesco PLC and its peers will recover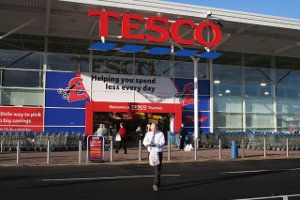 The apparent decline of the big supermarkets — Wm Morrison Supermarkets PLC (LON:MRW), Tesco PLC (LON:TSCO) and J Sainsbury plc (LON:SBRY) has resulted in the predictable surge of City analysts and journalists foretelling the demise of these big names.
Who will want to shop at the big stores, they argue, when you can save money at Lidl and Aldi?
The unprecendented level of television advertising this Christmas has also helped fan the flames.
Targeted directly at middle-class customers who used to think that Lidl was a dirty word, they promise cheap lobster, fine wines and a raft of other popular foods that are clearly aimed at the mid-upper end of the market.
Yet this is only half the picture. There are lots of reasons to believe that the rapid growth of Aldi and Lidl must slow soon.
Quite apart from the fact that trees don't grow to the sky, there are other, more practical reasons why I am confident the big supermarket players will get their act together in 2015, and will put a stop to the meteoric sales growth reported by the discounters.
In a recent article for the Motley Fool, entitled "3 New Reasons To Buy Tesco PLC, J Sainsbury plc And WM Morrison Supermarkets PLC", I explain why I'm bullish on the big three supermarkets.
I won't reveal those three reasons here, but i will leave you with a fourth reason: my wife visited Lidl to do some Christmas shopping this morning.
On her return, she reported that staff from local hotels and B&Bs were touring the aisles ahead of her, treating the place as if it was a cash and carry: picking up multiple crates of fruit and veg, almost the entire shelf stock of toilet paper, and so on.
Presumably this is because our local Lidl is currently cheaper than the local cash and carry — but the point is that anyone who has spent the last 10 years shopping at Tesco, Sainsbury, Morrisons or Waitrose, and has the money to do so today, will soon get sick of this sort of thing, as it meant that there were gaps in the shelves that clearly couldn't be refilled until the next delivery arrived, much later in the day.
To read the Motley Fool article I mentioned above, which explains why I'm backing the big supermarkets, click here.
Disclaimer: This article is provided for information only and is not intended as investment advice. The author owns shares in Tesco and Wm Morrison Supermarkets. Do your own research or seek qualified professional advice before making any investment decisions.