Flybe updates suggest turnaround is on course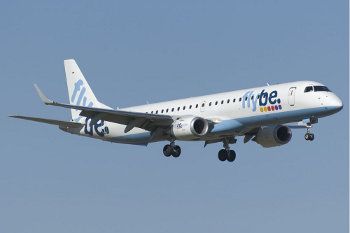 Disclosure: I own shares in Flybe.
Two recent trading updates from Flybe suggest that the firm's turnaround is continuing at a steady pace.
Surplus planes
Flybe's biggest headache is the 14 E195 jet aircraft on its fleet for which it has no use.
According to last year's results, getting rid of these could result in a maximum cost of £26m.
Flybe is of course hoping to avoid this by finding new uses for the planes.
By the end of last year,  five had been handed back to the lessors and two had been based at Cardiff Airport "under a long-term agreement".
On 8 October, Flybe announced that a further E195 aircraft has been redeployed under a five-year contract to serve Exeter and Norwich airports with either routes to five European destinations, starting in March 2016. This leaves six aircraft which still need new homes.
Although this latest deal doesn't guarantee that there will be no further costs associated with this aircraft — the new routes could flop, for example — it's a good sign of progress, in my view.
Trading update
Luckily, Flybe has the cash it needs to pay off any liabilities relating to the E195 aircraft, thanks to a £155m placing and open offer in 2014.
This means the firm's management can focus on turning the business around and generating new growth without having to worry about running out of cash. Today's trading update suggests this process is continuing.
Seat capacity was 13.8% higher during Q2 than at the same time last year, while passenger numbers were 10.7% higher. The difference between these two numbers does of course mean that the load factor has fallen slightly, from 80.5% in Q2 2014/15 to 78.3% in the quarter just ended.
This isn't great, but I don't see it as huge concern, as passenger yield was 2% higher than last year in Q2m and total passenger revenue rose by 13%. However, it's a point to watch — too many empty seats aren't sustainable.
Flybe shares are up by around 6% following today's trading update, and I believe the investment story here remains attractive.
Target price: 100p
Flybe's financial year ends in March, and earnings are likely to be subdued for the current year due the ongoing turnaround and the drag imposed by the unwanted E195 jets.
However, consensus forecasts for 2016/17 suggest earnings per share of 11.8p could be possible, putting the shares on a forecast P/E of just 6.5. This chimes with my view of the firm's underlying earning potential.
My view is that things are going well at Flybe and patience is likely to be rewarded. On that basis, I'm holding, with a medium-term share price target of 100p.
Disclaimer: This article is provided for information only and is not intended as investment advice. Do your own research or seek qualified professional advice before making any trading decisions.