Heritage Oil PLC Delivers 17% Production Boost & Dividend Promise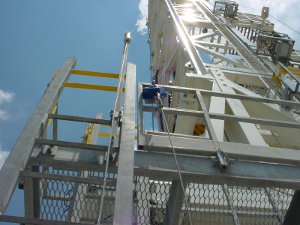 Investors in Heritage Oil PLC (LON:HOIL) have enjoyed a fairly lively ride over the last year — the firm's share price has dropped to sub-140p lows twice, before rebounding back to bounce off apparent resistance at 200p.
However, Heritage shares edged through to rise above 200p last week, and this week's trading update made it clear why:
Production: Net production to Heritage has risen by 17% to 15,600 bopd since the fourth quarter of 2013, boosting revenue and cash flow.
There have already been three liftings (sales) of oil this year, and liftings are expected monthly from now on. Gas compressor installation and scheduled maintenance and refurbishment of existing equipment is continuing to improve production, and development drilling is scheduled to begin later this year.
Tax: Heritage, and its Nigerian subsidiary Shoreline Natural Resources, have agreed a favourable tax settlement with the Nigerian authorities which should results in a "benefit … to be recognised in the 2013 year-end results", according to the firm.
Locking-in gains: It's worth remembering that Heritage was one of the first movers in Kurdistan, and is thus far the only firm to have negotiated a profitable exit from the region; the sale to Genel Energy of its Miran Block helped fund the purchase of Heritage's stake in OML30.
Heritage's purchase of OML30 also seems to have been structured to allow Heritage to lock in early gains — the firm's Nigerian operating company, Shoreline Natural Resources, is a JV with Nigerian firm Shoreline Power.
At the end of 2012, Shoreline Power confirmed that it would exercise a call option enabling it to increase its interest in OML30 from 55% to 70%. The end result is that Heritage's interest in OML30 will be reduced to 30%, in return for a payment of $100m, the first $31.5m of which it is due to receive shortly.
Dividends: All of which leads us nicely to the topic of dividends. It's not the first time Heritage CEO Tony Buckingham has mentioned his goal of paying a sustainable dividend, but it's now a more achievable goal and might even become reality quite soon, when the firm announces its 2013 final results at the end of April.
By my rough reckoning, Heritage's cash balance must be in the region of $200m, and with only 277m shares, a 1-2p per share dividend would be easily affordable, without making too much of a dent in the firm's development and exploration budgets.
What's next?
As you can probably tell, I'm a big fan of Heritage, and of its buccaneering CEO, Tony Buckingham, in particular.
The firm's share price has risen by almost 20% this week, taking it to within a whisker of my original 250p price target, which is now under review, as I think there's more to come, and intend to hold.
Disclaimer: This article is provided for information only and is not intended as investment advice. The author may own shares in the companies mentioned in the article. Do your own research or seek qualified professional advice before making any purchase decisions.