JKX Oil & Gas May Double Oil Production With New Well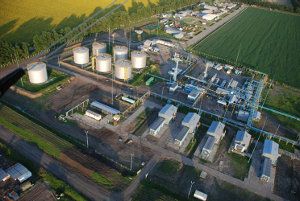 JKX Oil & Gas (LON:JKX) has reported that the second sidetrack of its M-166X well in the firm's  Molchanovskoye North field in Ukraine has flowed 1,710 bopd per day in testing with 2.1 MMcfd of gas, exceeding expectations.
Although JKX says that it will fit a smaller choke to manage the reservoir more carefully, which will reduce the flow rate, it's worth noting that JKX's total oil production in the first quarter of this year was just 1,417 bopd. This suggests that this latest sidetrack could double the firm's oil output and make a significant difference to its bottom line.
The Skytop N-75 rig used to drill the well has now spudded the next target in the Molchanovskoye field, Ignatovskoye well IG-132, which is targetting the shallower Tournaisian Carbonate reservoir.
JKX shares were up 6% in the first few minutes of trading this morning, but investors are likely to remain cautious ahead of next week's contentious AGM meeting, at which the firm's largest investors are seeking to unseat JKX's CEO and Commercial Director.
Disclaimer: This article is provided for information only and is not intended as investment advice. The author may own shares in the companies mentioned in the article. Do your own research or seek qualified professional advice before making any purchase decisions.