JKX Oil & Gas Plc Gains On Solid Half-Year Progress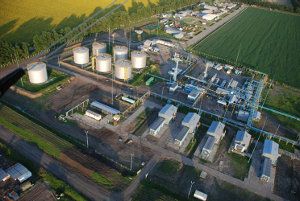 Shares in Russia and Ukraine-focused JKX Oil & Gas Plc (LON:JKX) closed up 4.8% at 65.5p today after the company published a solid set of half-year results showing that it was continuing to make progress on its turnaround plan.
Lower capex, profit up
JKX's first-half revenues fell slightly to $91.3m, due to lower oil and gas prices. However, the company reported a first-half operating profit of $9.4m, up from just $500,000 for the same period of 2012.
Capex dropped to $33.3m during the first half (2012: $45.6m) and the company's cash balance and undrawn bank facilities rose to $49.2m from $12.7m at the end of last year.
Production up 21%, Field Development Ongoing
Average production was 9,040 boepd, up by 21% from the same period last year, and current production is just above 12,000 boepd, where it is expected to stay for the remainder of the year.
The return to profit was particularly welcome in the light of falling oil and gas prices. JKX said that its average oil price fell to $89.45/bbl during the first half, down from $97.82/bbl for the same period last year.
The average gas price realised by the group also dropped, due to the greater volumes of gas being produced by its Russian operations, where gas prices are much lower. However, a 15% rise in regulated gas prices in Russia helped sweeten this pill, which is in any case a result of increased gas production in Russia.
Further production gains look likely as the company continues to drill new wells in its Molchanovskoye North field in Ukraine, while first gas is expected from the Elizavetovskoye field by the end of this year.
The company's 9-stage frac is currently underway at the Rudenkovskoye field in Ukraine. The frac is scheduled to finish in late August, and a stabilised flow rate is expected by the end of the third quarter.
Outlook
It's not all roses. JKX still has a pair of hostile shareholders (plus a large legal bill, I assume) and faces the ongoing uncertainty of Russian and Ukrainian oil and gas tax legislation — a moving feast, if ever there was one.
Although I'm pleased with the progress that's been made this year, realistically, further progress is required for all of this hard work to bear fruit. A lot rests on the success of the Rudenkovskoye frac — if this fails to deliver a decent flow rate, JKX's biggest prospect could be severely devalued. Rudenkovskoye contains reserves of 122Bcf of gas and 1.2mmbbl of condensate, but if it doesn't flow following the frac, these reserves could be downgraded.
Financially, the company has stabilised, and is now more profitable, but further production gains are needed to fund growth and strengthen JKX's ability to withstand political risk, and access debt markets on competitive terms.
What's next?
My target price for JKX is 80p (a price it reached earlier this year) — but this will be subject to review once the frac results are known.
Disclaimer: This article is provided for information only and is not intended as investment advice. The author may own shares in the companies mentioned in the article. Do your own research or seek qualified professional advice before making any purchase decisions.