JKX Oil & Gas plc 3rd Quarter Update: Limited Progress With Mediocre Assets?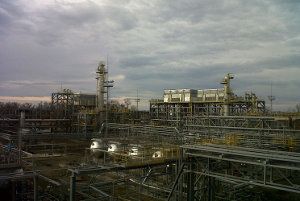 This morning's interim management statement from JKX Oil & Gas Plc (LON:JKX) was broadly in-line with expectations and looked okay, although it has confirmed my main concern about the firm, which I'll return to in a minute.
Flat production
Production was 11,943 boepd during the third quarter, up slightly from 11,102 boepd during the second quarter of 2013, and in-line with the company's interim results outlook in July, when it said production was expected to remain around the 12,000 boepd level for the remainder of the year. However, that outlook was subtly downgraded to "in excess of 11,000 boepd" in today's statement, which isn't great.
Something else that isn't great is that the boepd figure hides the divide between oil and gas in JKX's production output. While gas production has nearly doubled, from 34.3MMcfd during the third quarter of 2012, to 62.7MMcfd during the last quarter, oil production has dropped by 25% over the last year.
The problem with this is that gas prices are much lower in Russia, where the majority of the increased gas production takes place. This is illustrated by the firm's average realised gas price, which has dropped from $10.92/Mcf last year to $6.10/Mcf during the last quarter. However, first gas from the Elizavetovskoye field in Ukraine is expected before the end of the year, which should help improve this balance.
As a result, although JKX's overall production has risen by 54% over the last year, from 7,740boepd to 11,943boepd, this won't be reflected by a corresponding 54% increase in profits or operating cash flow.
Fraccing gains
The much-anticipated 10-stage multi-frac at the Rudenkovskoye field in Ukraine was a success, but today's news makes it clear that production has been disappointing, and implies — perhaps — that it won't be a particularly profitable affair.
The firm says that initial production from the reservoir started at more than 6 MMcfd, but has rapidly declined to 3 MMcfd. I'm not sure how long this production will need to continue to recoup the costs of the fraccing programme and move into profit, but given that the field has reserves of 122Bcf of gas, I suspect that JKX might have hoped for better — a suspicion that is confirmed for me by this comment from CEO Dr Paul Davies:
The successful multi-frac in the Rudenkovskoye field has demonstrated the potential of the technique for developing this tight reservoir. Our focus is now on ensuring that the next fracced well in the programme will yield increased plateau production at a lower capital cost.
Outlook
JKX says that plans are in-hand to upgrade the Koshekhablskoye gas processing plant to 60MMcfd capacity during the spring maintenance period in H1 2014, while exploration efforts will continue on the Zaplavskoye licence, which has delivered mixed (mostly disappointing) results so far.
I retain my 80p target for JKX, and will probably hold until the firm publishes its final results in the New Year, but I am increasingly concerned that most of JKX's energy and money is spent on optimising existing assets, some of which are not all that great.
Production-focused companies with mature assets can be attractive when those assets are prolific and reliable — as with Dragon Oil — but they are not so appealing when they are vulnerable to changeable tax regimes, shadowy local investors and declining asset performance, all of which have, unfortunately, affected JKX Oil & Gas in recent years.
Trading update 21/11/2013: Having re-read my own comments and considered some of the other options in my portfolio, I've sold my JKX shares and re-invested the money elsewhere. It's a tricky call, but I was comfortably in profit and believed that the money could be better used elsewhere.
Disclaimer: This article is provided for information only and is not intended as investment advice. The author may own shares in the companies mentioned in the article. Do your own research or seek qualified professional advice before making any purchase decisions.