Ophir's Rights Issue is Good News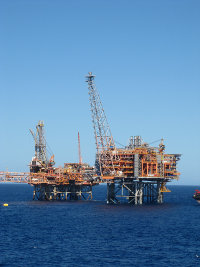 Ophir Energy (LON:OPHR) announced a £553m share placing and rights issue on Monday, alongside its final results.
Such a large dilutive funding would not normally be good news, but Ophir's shares shot up on the news and as a shareholder, I was pleased too, for two main reasons:
Ophir flagged up a cash shortfall towards the end of last year that would have restricted its 2013 exploration programme and might have forced it to sell assets or negotiate farm-in deals from a position of financial weakness — never a good thing.

Unusually, the bulk of the fundraising is not through institutional placings, but through a rights issue that's open to all shareholders. This means that anyone choosing to take up their entitlement of two new shares for every five held will not see the value of their holdings diluted by this announcement.
Success breeds confidence
It's worth pointing out that only a company like Ophir — which had a 100% success rate across eight wells drilled in 2012 — could get away with this kind of heavyweight fundraising so successfully.
Ophir's whole purpose is to prove up its assets to a commercial level and in the mean time, it has virtually no revenue and is dependent on the markets for its funding. When you take this approach to oil and gas exploration and have no production assets to fall back on, you had better be right, and so far, Ophir has been.
I'm a fan and was happy to be able to buy in at around 475p recently. I intend to take up my allocation of shares in the rights issue, at 275p apiece, since I believe that the company's improved funding situation should help it progress towards its ultimate goals, which must be either a partnership with an oil major, or a company sale.
What will they spend it on?
Ophir's plans for 2013, which will be fully funded if the rights issue is successful, are fairly impressive and worth reading, if you haven't already — here are the details:
Continuing to explore and evaluate the resource potential of the Group's acreage position in Tanzania through an extensive deep water offshore exploration drilling programme including at least three wells in the highly prospective Blocks 1, 3 & 4 and one well in each of Block 7 and East Pande;
Drilling one deep water offshore exploration well in Block L9, offshore Kenya;
Progressing Ophir-BG Group's Tanzanian gas assets towards commercialisation in a competitive timeframe;
Commencing a three well offshore drilling programme in Gabon by exploring both pre-salt (two wells) and post-salt prospects, targeting multiple deep water oil plays that have successfully been tested in both offshore Angola and the Sergipe-Alagoas Basin offshore Brazil;
Enhancing the Group's West African position by exploring a play concept on the West African transform margin in Ghana with the drilling of the Starfish prospect in the Accra Block, offshore Ghana;
Undertaking further exploration and appraisal in Block R, Equatorial Guinea (subject to farm out);
Adding to the Group's portfolio through one or more new country entries that leverage the Group's expertise and align with the Group's corporate strategy.
If Ophir can be half as successful as it was last year, it should be able to improve on its current market value and move towards the next stage of its corporate development.
News imminent
Ophir increased its net contingent resources by 377% last year, from 210mmboe to 1,106mmboe, and has now begun flow-testing some of its Tanzanian discoveries in order to move torwards converting them to reserves.
The next news from the company should come fairly soon, when it announces the results of the first drill stem testing programme on its Jodari field, offshore Tanzania. According to Ophir, the company expects that the flow rate may be constrained by the limits of testing equipment, due to quality of the reservoir.
These tests were due to finish at the end of February, so investors may not have too long to wait to find out more.
Disclosure: Roland owns shares in Ophir Energy.
Disclaimer: This article is provided for information only and is not intended as investment advice. Do your own research or seek qualified professional advice before making any purchase decisions.