Salamander Energy Disappoints With Bedug Gas Discovery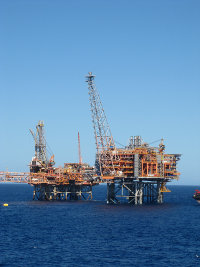 Salamander Energy (LON:SMDR) has announced that its Bedug-1 well is a gas discovery, disappointing investors who hoped it would be oil, and sending the firm's share price down by 17% in today's trading.
This concludes the firm's North Kutei basin drilling programme for this year, so let's sum up what the firm discovered, and what it had hoped to find:
South Kecapi-1: Discovered at least 29m of net gas pay, plus 11m of net oil pay, which flow tested at 6,000 bopd. A good result.

North Kendang-1: Well had to be suspended for later re-entry after a powerful gas kick damaged equipment and made it unsafe to continue without specialised drilling equipment. It's a gas discovery, but its potential scale and commerciality is unclear.
Bedug-1: Salamander hoped that Bedug-1 would discover mean unrisked prospective resources of 150MMbo and 100Bcf of gas. Today's news is disappointing, as once again the well could not be drilled to the planned depth because of pressure issues. This means that the potential oil targets were not tested and the scale of the gas discovery is unclear.
What's next?
Salamander is planning to redrill the North Kendang-1 well with specialised Managed Pressure Drilling equipment, when such equipment can be imported into Indonesia and put together with an available drilling rig.
The firm is evaluating the data from Bedug-1, and this may also be redrilled along with North Kendang-1, as the potential for an oil discovery remains.
In the meantime, Salamander is planning to drill the onshore West Kerendan and Sungai Lahei prospects over the summer, targeting unrisked mean prospective resources of 900Bcf, and is forecasting full-year average production of between 12,500 and 15,500 boepd, a 20%-50% increase on last year's production.
According to today's AGM statement, production is currently running at around 18,000 bopd, ahead of budget, thanks to good results from the Bualuang field, which is currently producing around 15,000 bopd. Drilling is about to start on the G4/50 licence offshore Thailand, which Salamander believes is highly prospective.
I think there's more to come, and Salamander's strong production-based cash flow this year should deliver solid full-year profits.
Disclaimer: This article is provided for information only and is not intended as investment advice. The author may own shares in the companies mentioned in the article. Do your own research or seek qualified professional advice before making any purchase decisions.