Salamander Suspends North Kendang-1 Well as 'Potential Gas Discovery'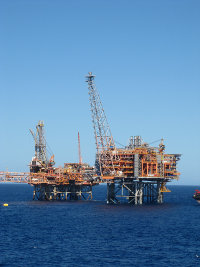 Salamander Energy (LON:SMDR) is drilling three wells in the North Kutei basin, offshore Indonesia, in 2013.
The first, South Kecapi-1, was a decent oil and gas discovery that the firm believes could flow up to 14,000 bopd. The second, North Kendang-1 (NK-1), was targeting mean unrisked prospective resources of 770 Bcf and 91 mmbbl, and was nearing completion when it was suspended, the company announced today.
The well had been drilled to 2,535m when it "took a significant kick from an influx of high pressure hydrocarbon gas into the well bore at a wellhead pressure of circa 4,000 psi."
In other words, there is certainly some gas, but it was a more than the drilling rig could handle, making it difficult to assess the reservoir and forcing the suspension of the well.
Further drilling will be required, but a sample of gas has been taken and early results suggest a wet gas — which could be good if it turns out to be condensate — and a "potentially significant column height", according to Salamander.
We'll probably have to wait for next year for further drilling on NK-1, but this is potentially good news and bodes well for further exploration in the North Kutei basin, which the company rates highly. The drilling rig has now been moved to drill the third planned well in the North Kutei basin, Bedug-1, which is targeting 321 Bcf and 80 mmbl on an unrisked basis.
Markets hate uncertainty, and Salamander's share price slipped nearly 3.5% today, but I don't think that this find is particularly bad news — just one of the inevitable twists and turns of wildcat exploration drilling.
Disclosure: Roland hold shares in Salamander Energy.
Disclaimer: This article is provided for information only and is not intended as investment advice. Do your own research or seek qualified professional advice before making any purchase decisions.