Updates: Aquarius As Planned and Goldplat Faces Indigenisation Threat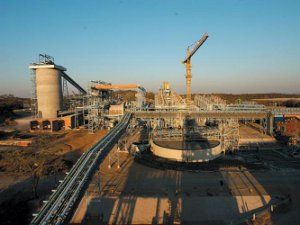 I thought I'd update my recent articles looking at Aquarius Platinum and Goldplat with the latest updates from each of these companies.
Aquarius Platinum
Today saw Aquarius Platinum (LSE: AQP) release its first quarter results for the 2012/13 financial year.
The details were pretty much as expected, with the remaining operating mines all generating positive EBITDA as promised.
Net loss after tax was $19.6m, but this included $14.6m of one-off charges relating to the closure of mines and the transition to an owner operator. The group's cash balance remains strong at $122m and assuming nothing else much changes, next quarter's results should be significantly better. The markets didn't really react to the results and Aquarius ended the day with its share price more or less unchanged. It's a waiting game.
Goldplat
Mining in Africa is often full of surprises — just look at what happened to Centamin (LSE: CEY) today.
For Goldplat (LSE: GDP), the surprise was less extreme — but it did have the same underlying message — Africa's population is getting tired of providing cheap labour while the profits from mining are exported abroad.
In a nutshell, the Kenyan government has announced that it will require all new mining licenses to include 35% minimum local equity participation. Here's the full message from Goldplat's AGM statement:
"At this juncture, we would like to note that the Kenyan Government has gazetted Legal Notice No. 118 under the Mining Act that seeks to mandate a 35% minimum local equity participation in mining licenses.  Legal opinion taken by the Company indicates that this legal notice does not apply retrospectively to Kilimapesa's Special Mining Lease No. 27.  Goldplat however has engaged with the Minister of the Environment and Mineral Resources to ensure that the planned plant expansion and associated ramp-up to 10,000 ounces per annum is not jeopardised. We continue to have strong relations with the Government of Kenya and are confident of a favourable outcome for all stakeholders."
Kilimapesa is still under development, and it's possible that Goldplat could successfully develop it on this basis anyway, but no doubt shareholders will be anxiously hoping that the ruling doesn't apply retrospectively.
The ruling certainly seems to have raised a few niggling doubts in big investors' minds, and Goldplat's share price is down 2.2% over the last two days.