Why I've added Hargreaves Services plc to my value portfolio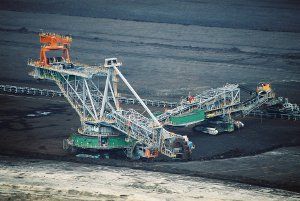 Disclosure: I own shares in Hargreaves Services.
Stock markets are forward-looking. At least that's the theory.
That's why coal firm Hargreaves Services plc (LON:HSP) is trading on just 3.7 times its 2014 earnings, with a 7% yield.
The firm's earning power is expected to crater over the next couple of years and the shares trade on nearly 8 times 2016 forecast earnings.
However, the problem with predicting the future is that you're often wrong.
I'm not suggesting that Hargreaves' core business of mining and trading coal is not in decline. I believe it is. The group's focus on "simplification and debt reduction" are an implicit admission of this, as is its focus on cash generation and shareholder returns.
Despite this, I'm not convinced the end is nigh. Not quite yet.
Traditional Ben Graham-style value investing involves looking at historical numbers, rather than forecasts. On this basis, Hargreaves is extremely cheap. These numbers are taken from my investment spreadsheet, which I fill out and refer to before deciding to buy (or sell) a company:
| | | | | | | | | | | | |
| --- | --- | --- | --- | --- | --- | --- | --- | --- | --- | --- | --- |
| TTM P/E | TTM yield | PE10 | P/B | P/TB | Current Ratio | Dividend cover | FCF dividend cover | Cash interest cover | Net gearing | 10yr eps growth | 10-yr divi growth |
| 3.70 | 6.90% | 5.0 | 0.81 | 0.86 | 2.1 | 3.5 | 3.9 | 8.5 | 26.50% | 29.50% | 17.70% |
Source: Annual reports, Stockopedia, my calculations
The strength of Hargreaves' balance sheet and cash flow are impressive. I'm also impressed by management's ability to remain objective and focused on financial efficiency and shareholder returns.
I think that to some extent, these advantages discount the risks facing the firm in the short/medium term. Should Hargreaves firm be able to tread water for a while, I believe the shares could generate a reasonable total return.
As a result, I recently added some to my value portfolio.
Hargreaves' financial year ends in May, but the firm didn't publish its results until September last year. I may have to wait until then to learn how well timed my initial buy was, as the company appears to have foregone its year-end trading update this year.
Disclaimer: This article is provided for information only and is not intended as investment advice. Do your own research or seek qualified professional advice before making any trading decisions.