Will Just Eat's latest acquisition be a dodgy takeaway for shareholders?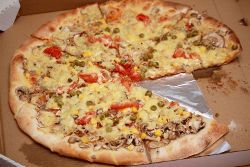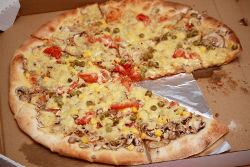 I've been bearish on Just Eat PLC (LON:JE) for some time now, but today's acquisition suggests the firm's management really have lost touch with reality, in my view.
The UK-based firm is planning to pay £445m for Menulog, a similar firm operating in the Australian and New Zealand markets. That's a stunning 33 times last year's Menulog revenues of £13.5m, and and even more bizaare 371 times Menulog's 2014/15 EBITDA of £1.2m.
This deal will be financed through a proposed issue of new shares — and while Just Eat claims it will be eps accretive in the first year of ownership, I reckon shareholders need to consider how many years this acquisition will take to pay for itself.
Let's look at the numbers
Given that Menulog has been building its takeaway business since 2008, it's not clear to me what stage it's reached in the growth cycle. However, if we generously assume it can extend the 96% year-on-year growth seen over the last quarter for the next four years, we see Menulog's turnover rising to around £82m by 2019.
This would imply an EBITDA profit of around £7.3m, based on Menulog's 2014 EBITDA margin of 8.9%.
In turn, this suggests that Just Eat may have paid around 60 times Menulog's expected earnings in 2019!
Maybe I'm wrong
In fairness, it's possible that Menulog's sales will rise faster than this. Just Eat says that online penetration of the £1.6bn AUS/NZ takeaway delivery market is currently just 22%. I'd expect this to rise to between 40% and 60%, giving a potential market of, say, £800m.
Of this, a fat slice — perhaps 50% — will be taken by big brand firms, such as Dominos, which will never come onto the Just Eat/Menulog platform. That leaves a target market for Menulog of around £400m.
Menulog is unlikely to get this all to itself, given the lucrative nature of the business, but let's be generous and say it might be able to build up to revenues of £200m, giving EBITDA profit of around £20m. However, even in this favourable case, Just Eat is planning to pay 22 times future EBITDA profits — which are likely to be at least five years away.
In my view, the £445m purchase price for Menulog just does not stack up, however you look at it.
To add insult to shareholders' likely financial injury, this deal will be funded with new shares. It was no surprise to me to see Just Eat shares fall heavily after the news had sunk in on Friday. I suspect there could be further to fall.
The last word
For what it's worth, I think Just Eat is a good business, but seriously overvalued. This premium valuation, combined with the current mania for consolidation in the online takeaway delivery market, seems to have led Just Eat's management to massively overpay for Menulog.
I doubt this acquisition will pay for itself in the next decade, if ever.
I remain short of Just Eat.
Disclosure: This article is provided for information only and is not intended as investment advice. The author has a short position in Just Eat. Do your own research or seek qualified professional advice before making any trading decisions.