Portfolio shares: Is Imperial Brands a classic high-yield buy?
Imperial Brands is starting to look like a turnaround that's coming good, suggests Roland Head. He explains why the stock's high yield credentials have earned it a place in his quality dividend model portfolio.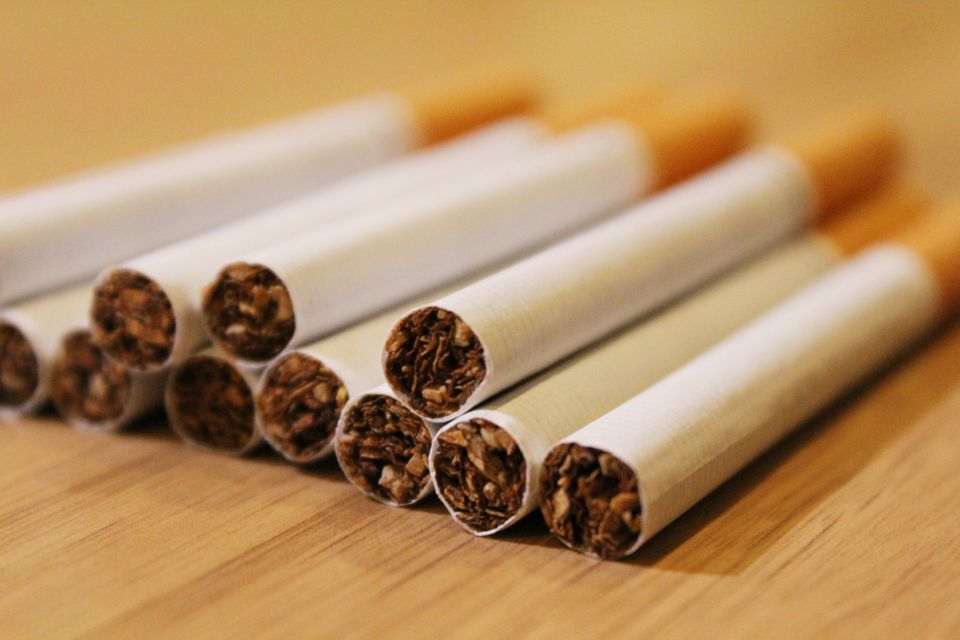 Disclosure: Roland owns shares in Imperial Brands.
Fashions change but so do accepted views. A little over 20 years ago, smoke-filled pubs were the norm. Fund manager Neil Woodford was lauded for his contrarian decision to load up on cheap tobacco stocks during the dot com boom.
Now, not so much. I come home from the pub without smelling like an ashtray, and many mainstream fund managers are shunning tobacco stocks.
A turnaround opportunity?
For Imperial Brands (LON: IMB), the rise of ESG investing has coincided with a period of self-inflicted poor performance. Under former CEO Alison Cooper, pre-tax profit fell between 2017 and 2019, while investments in new generation products such as vapes failed to deliver hoped-for results.
Cigar-smoking Ms Cooper ran out of road and agreed to step down in October 2019. She was replaced by Stefan Bomhard, who was previously CEO of automotive group Inchcape.
Mr Bomhard took charge in February 2020. Since then, he's sold Imperial's luxury cigar division, cut the dividend, tightened the group's focus on cigarettes, reduced net debt and returned the business to growth.
Imperial main focus is now its five largest markets: the USA, Germany, UK, Australia, and Spain. These account for around 70% of group operating profit. Mr Bomhard has also doubled down on flagship brands such as JPS, Davidoff, West, and Winston. These changes are said to be helping Imperial regain share of key markets – an important goal for an ex-growth business.
Alongside this, the company is working to revitalise "local jewel brands" (e.g. Embassy in the UK) and making targeted investments in next-generation products. These include vaping trials in the US market and heated tobacco in selected European markets.
Two years after Mr Bomhard took charge, results are starting to show through. Imperial's full-year results for the year to 30 September 2021 were positive in all the right places (all numbers on an underlying basis):
Net revenue +1.4%
Operating profit +4.8%
Earnings per share +2.8%
Net debt reduced by 16%
Dividend +1%
Having stabilised the business, Bomhard says that the next three years will be devoted to "the acceleration of returns and sustainable growth in shareholder value". I don't know how realistic this is, but I'm encouraged by results so far.
Judging from Imperial's recent share price action, other investors are taking note too. The stock may finally have started to reverse a decline that's been ongoing since 2016: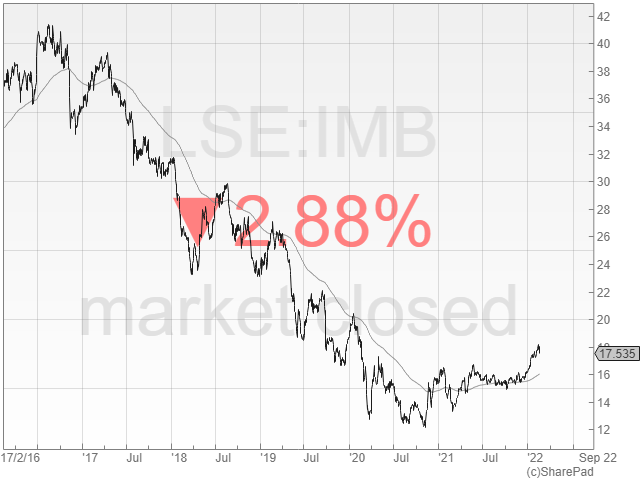 As a high yield dividend investment, I think Imperial has a lot to offer. As we'll see, the group's cash flow remains assured, and the reduced dividend looks safe while remaining generous.
Imperial scores highly in my dividend screening system and is a member of my quality dividend model portfolio. Read on to find out why.
Imperial Brands: crunching the numbers
Imperial Brands (LON: IMB)
Share price: 1,753p
Shares in issue: 950,408,101
Market cap: £17.2bn
In the remainder of this review, I'll step through the different stages in my dividend screening system, and explain why I've chosen Imperial Brands for the model portfolio. Unless specified otherwise, the financial data I use in this process is drawn from SharePad.
Dividend Culture: a true believer
I score a company's dividend culture by measuring its history of unbroken dividend payments. Cuts to the payout don't disqualify a share from scoring well. I'm simply looking for longevity and commitment.
Imperial scores pretty well. Until 2020, the dividend hadn't been cut since the business was spun out of Hanson in 1996.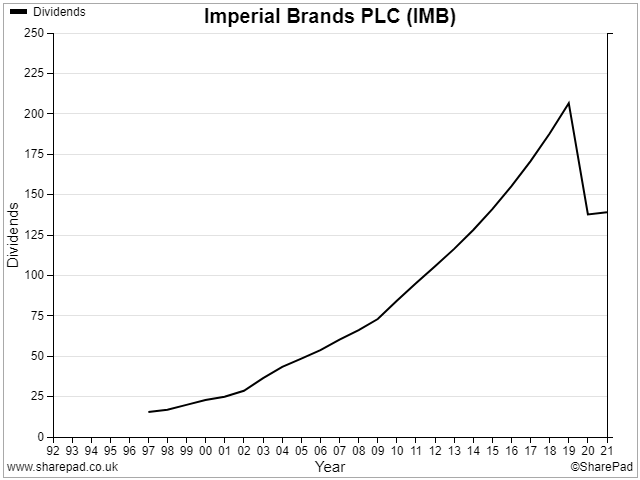 Imperial Brands' strong dividend culture scores 5/5 in my screening system.
Given such a record, I'm not surprised that 20-year company veteran Ms Cooper held back from cutting the payout. But I believe Mr Bomhard's decision to cut was the right one and would argue that it's improved the quality of Imperial's dividend.
Dividend Safety: improving
My dividend safety score looks at a company's historic dividend payout ratios, free cash flow dividend cover and leverage. It's a formula I hope can highlight stretched payouts without being too inflexible.
Although I think Imperial's payout looks safe today, this hasn't always been the case over the last five years.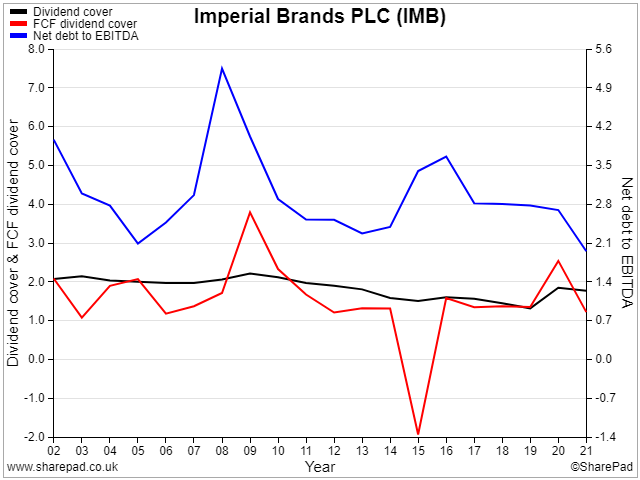 I believe that the benefits of Imperial's falling leverage and reduced dividend payout will become increasingly apparent over the next few years. However, the stock's dividend safety score can't yet escape the legacy of its recent past.
Imperial Brands scores 3.3/5 for dividend safety in my screening system.
Dividend Growth: not great
I'd expect Imperial's first ever dividend cut since 1996 to prevent the stock from scoring too highly for dividend growth. And it does.
I score stocks for dividend growth based on a weighted average of five-year dividend and free cash flow growth. My aim is to measure not only dividend growth, but the company's ability to support dividend growth.
Unfortunately, Imperial's free cash flow and its dividend were both lower in FY21 than they were five years ago.
Imperial Brands scores -1/5 for dividend growth in my screening system.
N.B. I should explain that in some cases, my system allocates a score of -1 where a company's metrics fall outside my positive scoring range. My aim is to allow stocks that are strong in other areas to remain in the screening results, while penalising them for areas of weakness.
Dividend yield: a juicy 8%
Imperial's share price may have started to rise. But the group is still very cheaply valued in historic terms. This is reflected in a forward dividend yield of 8%.
To put this in context, when the share price peaked in 2016, Imperial's dividend yield fell to around 4%. At that level, I wouldn't be buying into a low-growth, heavily-regulated business. But everything has its price.
I score stocks for dividend yield by calculating a weighted average of their five-year dividend yield and forecast yield.
Imperial Brands scores 5/5 for dividend yield in my screening system.
Valuation: cheap
This isn't a business I'd want to pay too much for. There are undeniable long-term risks to shareholders, including regulatory risk and declining demand. Fortunately, I think Imperial shares look pretty cheap after their five-year decline.
As I've discussed previously, I don't use the P/E ratio to score stocks for valuation. Instead, I use earnings yield and free cash flow yield.
I use earnings yield (EBIT/EV) because it provides a view on valuation that includes a company's debt capital as well as its equity capital. As such, it provides a more inclusive and comparable measure of value than the P/E ratio, which does not include debt.
Free cash flow yield is important to me because I always want my dividends to be paid out of surplus cash. If a stock's free cash flow yield is too low, then that might not be possible. Free cash flow can be lumpier than earnings, but I'm happy to live with that. Using charts such as the one below, it's also possible to see through such lumpiness.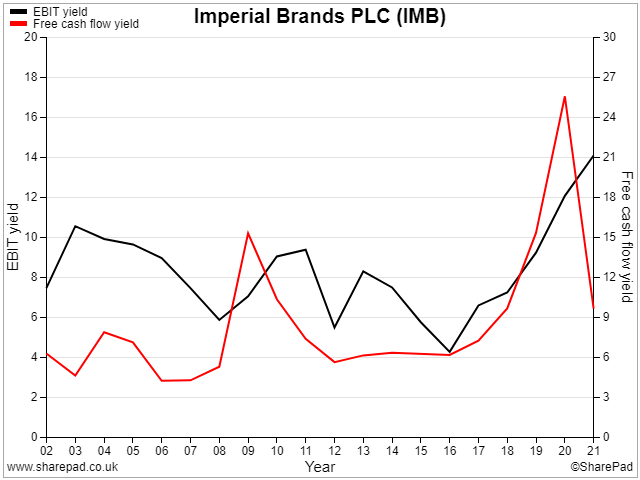 Imperial's EBIT yield has been consistently high for years. But the improvement seen since 2016 (as the share price has fallen) has left the stock looking unusually cheap, in my view.
The stock's trailing free cash flow yield of 9% is still ahead of the dividend yield, despite the distortion caused by some big working capital movements during the pandemic. On a normalised basis, my sums suggest Imperial's free cash flow yield is probably a little higher than 9%.
Imperial Brands scores 4/5 for valuation in my screening system.
Profitability: robust
Just as I don't use the P/E ratio in my screen, nor do I use operating margin. Instead, I focus on return on capital employed (ROCE) and return on equity (ROE). I prefer these measures because I think they provide a more direct indicator of how much value a business is creating for its shareholders.
A high operating margin doesn't tell us much about the assets being used to generate profits. Expensive assets can lead to low returns, even with high margins. Excessive leverage can also distort profitability, without this being apparent in a company's margins.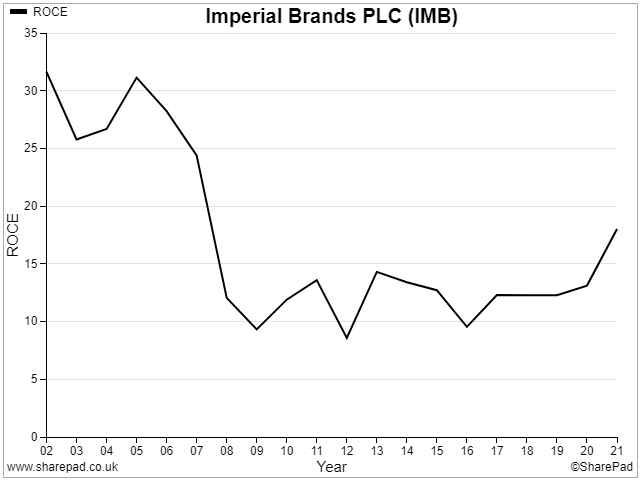 Imperial Brands' ROCE is not as high as it once was. This is due to the impact of a couple of big acquisitions in the noughties. These added substantial goodwill to the balance sheet, inflating the capital employed in the business.
Despite this, ROCE now looks attractive to me, at 17%. I'm also happy to see the improving trend here. I see this as a highly profitable business.
Imperial Brands scores 4.4/5 for profitability in my screening system.
Fundamental Health: shame about the debt
My fundamental health check is primarily intended to look for companies that might have too much debt. The measures I use within to screen for this include fixed charge cover and five-year average leverage.
Imperial's debt burden has been one of the concerns for shareholders in recent years. Net debt has come down to a (slightly) more reasonable level thanks to the sales of the cigar division. But at around £9bn, it remains high for me, at more than three times net profits.
However, after hitting a recent high in 2015, the group's leverage is now falling: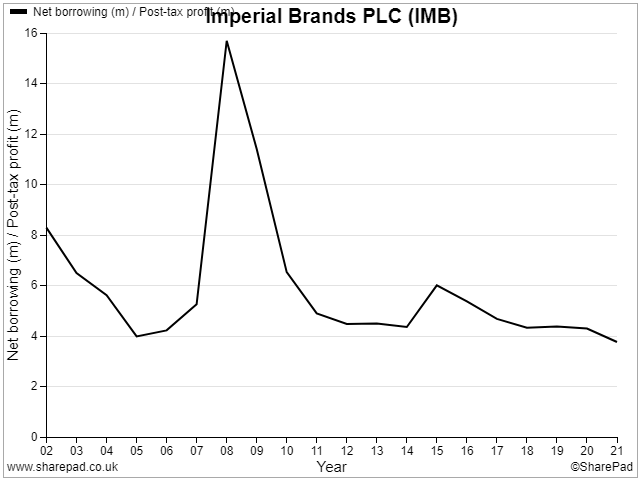 Imperial Brands scores 2.7/5 for fundamental health in my screening system.
Conclusion: potentially a good, improving high-yield stock
After scoring a stock on these individual criteria, my screening system weights, sums, and normalises the scores, to give a total out of 100.
Imperial Brands scores 67/100 in my dividend screening system at the time of writing (Feb 2022).
Imperial's share price at pixel time is 1,775p, valuing the shares on a modest seven times forecast earnings. Although debt remains a concern, both leverage and net borrowing is now falling. I think the 8% dividend yield looks safe enough for the foreseeable future and would hope to see the stock re-rate to a slightly higher valuation.
As always, my intention is to hold this stock for many years. But in this case, I can foresee a time when the investment may no longer make sense. This might be due to a changing market environment or perhaps even an overly-optimistic valuation.
For now, I'm happy to hold Imperial Brands in my quality dividend model portfolio, where it provides a useful boost to the portfolio's average yield.
To make sure you don't miss out on future articles, please hit subscribe to receive all my posts by email and gain access to member-only areas of the site.
I'll be adding a comment facility to this site as soon as I'm able to; I look forward to your feedback over the coming months. In the meantime, you can always reach me on Twitter @rolandhead or by email.
Disclaimer: This is a personal blog. The information provided is for information and interest. Nothing I say should be construed as investing advice or recommendations. The investing approach I discuss relates to the system I use to manage my personal portfolio. It is not intended to be suitable for anyone else.
You should carry out your own research and make your own investing decisions. Investors who are not able to do this should seek qualified financial advice. Reasonable efforts are made to ensure that information provided is correct at the time of publication, but no guarantee is implied or provided. Information can change at any time and past articles are not updated.