Portfolio shares: DCC's ROCE fixation and 27-year dividend history appeal to me
FTSE 100 share DCC has a relatively low profile with investors, but offers an outstanding 27-year dividend record and has other attractions, as I discuss.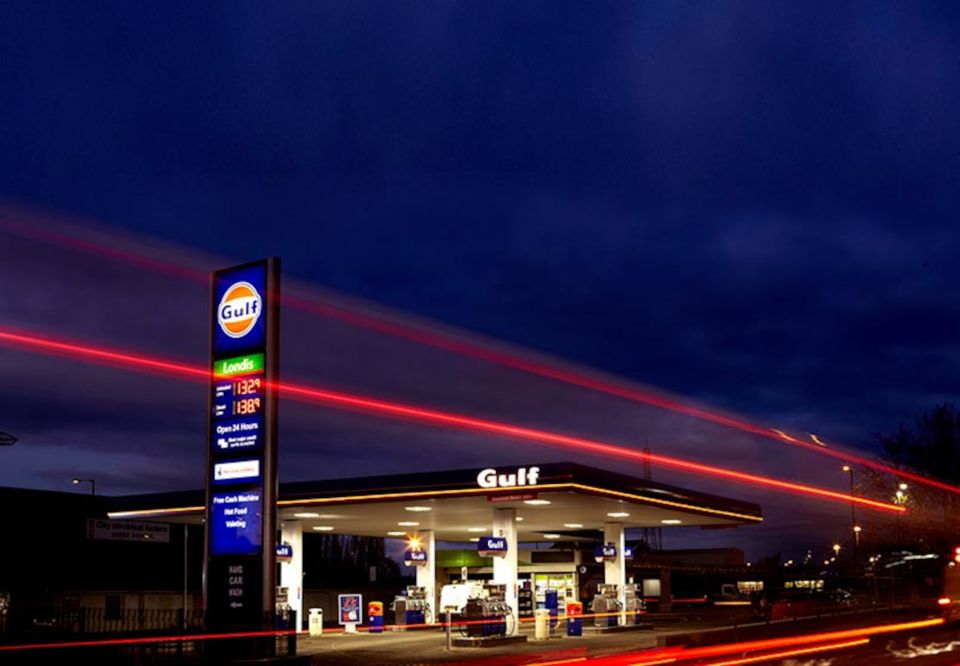 Disclosure: Roland owns shares in DCC.
This is the first of a series that will introduce the stocks in my quality dividend model portfolio.
FTSE 100 firm DCC (LON: DCC) describes itself as an "international sales, marketing and support services group". More usefully, I think DCC can be described as a conglomerate with the following characteristics:
Core skillset: Distribution
Markets: B2B and B2C
Sectors: Energy, healthcare/beauty, and technology
Geography: UK, Ireland, USA, and western Europe
This Irish company is below the radar for many investors, despite its FTSE 100 membership. But I think DCC has a track record which deserves respect and makes it an interesting alternative to better-known Bunzl.
DCC floated in 1994. In the 27 years since then, it's delivered a total shareholder return of 6,640%* and a compound average annual dividend growth rate of 13.9%*. Perhaps not coincidentally, DCC's reporting includes a welcome emphasis on return on capital employed (ROCE) and free cash flow. (*DCC statistics)
I think this business has the potential to continue growing at an attractive rate, while providing a high-quality dividend.
DCC is a member of my quality dividend model portfolio and a holding in my personal portfolio. In this review I'll explain how this business makes money and why it's one of the highest-scoring stocks in my dividend screening system.
DCC: What does it do?
Ticker: LON: DCC
Recent share price: 6,246p
Shares in issue: 98.6m
Market cap: £6.2bn
DCC has four operating divisions - LPG, Retail & Oil, Healthcare and Technology. Here's a snapshot of how much profit each division contributes and which countries it comes from: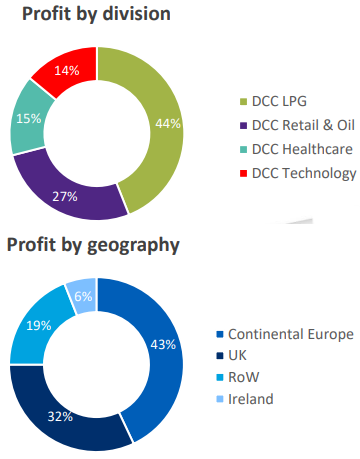 LPG
In 2021, DCC's largest division supplied 2.3m tonnes of LPG to 940,000 customers in 10 countries. Commercial and industrial customers accounted for 71% of volume, with domestic customers accounting for 23%. DCC's main UK LPG brand is Flogas.
DCC is ranked first or second by market share for LPG supply in France, the UK, Ireland, Scandinavia, and the Netherlands. The group also has a faster-growing LPG operation in the US, a market it entered in 2018. The US market for LPG products remains highly fragmented and appears to provide ample opportunities for an experienced consolidator such as DCC.
Retail & Oil
This division sold 10.2bn litres of petroleum-based fuels in 2021, principally diesel, petrol, and heating oil. In the UK, the main brands are Certas Energy (distribution) and Gulf (retail). The company operates under a range of other brands in Europe and also operates some Shell-branded stations in the UK.
As with LPG, the largest customer segment is commercial and industrial (39%). This represents bunker fuel for transport and heavy machinery operators, and other such markets. The second largest segment (34% of volume) is retail - roadside service stations.
Domestic customers, who primarily buy heating oil, account for 5% of volumes. As a heating oil customer, I find that Certas offers a good service and is normally the winning (cheapest) supplier for my local oil club. This suggests that its scale allows for more competitive pricing than smaller local rivals.
Healthcare
DCC is primarily a distribution business, but the group's healthcare division is also involved in manufacturing. This division generates 57% of its revenue in the UK, with the remainder split across the US (27%) and Ireland (16%).
The healthcare business has two main arms.
DCC Vital sources, markets and distributes medical and pharmaceutical products to healthcare providers in the UK, Ireland, Germany, and Switzerland.
DCC Health & Beauty handles a wider range of health, beauty, and nutritional products. DCC carries out activities such as contract manufacturing and packing for a range of partners, including Estée Lauder and GlaxoSmithKline. DCC's facilities are able to handle a wide range of product and packaging formats.
Technology
DCC Technology operates under the Exertis brand, which acts as a "route-to-market and supply chain partner for global technology brands".
Activities and services include sales and marketing, localisation, returns handling and order fulfilment. This business has more than 270,000 square metres of logistic space and covers markets including data centres, security, IT, mobile and audio-visual equipment.
Risks & growth opportunities
One obvious risk for shareholders is that 71% of DCC's profit was derived from sales of fossil fuel products in 2021. It seems almost inevitable that we'll see a gradual decline in consumption of these fuels in developed markets over the coming decades, perhaps even sooner.
Replacing this lost profit might not be easy. But on closer inspection, I think the near-term risks to DCC shareholders are probably smaller and more easily mitigated than they might first appear.
LPG: Liquefied petroleum gas is currently positioned as a lower-carbon alternative to oil fuels. It's widely expected that LPG and LNG will be transitional fuels, alongside renewable energy. DCC expects to be able to capitalise on this by converting customers from oil, gaining market share, and finding new applications for LPG.
Simultaneously, the company's infrastructure and customer base should be able to support expansion into greener products such as biofuels and solar -- projects that are already underway.
Retail & Oil: Much of the fuel sold by DCC is used for commercial vehicles and industrial machinery. Development of the group's HGV/bulk fuels offer is a key growth objective at the moment. I expect demand to be fairly durable in these sectors.
Mass electrification of heavy transportation is not expected to be feasible for some time yet, if at all. Instead, I expect biofuels, LPG and perhaps hydrogen to gradually replace diesel. I think it should be well within DCC's capabilities to handle these transitions as they arise.
I also expect the group's retail (filling station) operations to have a fairly assured future. In my view, roadside services are likely to remain just as relevant for electric car drivers as they are today, due to the need for fast recharging, food, drink, and other ancillary services.
Healthcare and technology: My view is that both of these divisions operate in structural growth sectors. Although they also face some ESG issues, I think these will be gradually mitigated without triggering the kind of seismic disruption that's expected in the transportation and energy markets.
Both the healthcare and technology divisions already have attractive scale and good profitability, in my view. If they continue to be well managed, I expect both businesses to continue expanding and to generate a growing shares of group profits.
Acquisitions: One additional point worth making is that like Bunzl, DCC is a highly acquisitive business. The group combines organic growth with bolt-on deals to consolidate the markets in which it operates.
According to a recent presentation, DCC has acquired more than 300 companies over the last 27 years, spending £3.5bn as it has done so. That's an average of around £12m per acquisition, although recent deals have become larger.
I'm wary about companies which execute big acquisitions. But I'm comfortable enough with a proven roll-up operator which makes regular small acquisitions to gain share and consolidate its core markets. I think DCC's acquisitions fall mostly into this latter category.
In the remainder of this review, I'll step through the different stages in my dividend screening system and explain why DCC scores quite highly for me. Unless specified otherwise, the financial data I use in this process is drawn from SharePad.
Dividend Culture: beyond doubt
The first item on my checklist is whether a company has a dividend culture. By this I mean a proven commitment to paying a regular dividend. I measure this by checking the number of consecutive years for which a dividend has been paid.
Stocks are scored on a sliding scale from a minimum of five years (one point) to over 25 (five points).
DCC scores a maximum 5/5 for its dividend culture, thanks to its 27-year unbroken record of dividend payouts.
Dividend Safety: well covered
Regular dividends are all very well. But they must be safe and sustainable. To measure this, I look at a number of factors:
Dividend payout ratio (5yr and trailing 12-month)
Free cash flow dividend cover (5yr average)
Leverage (net debt/5yr average net profit)
On average since 2016, DCC's dividends have been covered more than twice by both earnings and free cash flow. This earns the stock a respectable dividend safety score of 4.3/5.
Dividend Growth: strong record
A well-covered dividend is nice. But I'm investing for the long term. To have a chance of beating inflation, I need to ensure that the companies I own are able to deliver real growth. By this, I mean sustainable dividend growth that's backed by free cash flow.
To score dividend growth, I use the following metrics:
Five-year average dividend growth
Five-year average free cash flow growth
DCC's free cash flow has grown by an average of 22% per year over the last five years, according to SharePad. The dividend has grown by an average of 10.4% per year over this period.
Together, these metrics earn DCC a dividend growth score of 4.5/5.
Dividend yield: not supreme
You might expect to see dividend yield higher up the list here, given that my quality dividend model portfolio is ultimately an income strategy. Yield is certainly important here, but at this stage in my investing life it's not supreme.
There are a couple of reasons for this.
Firstly, I've learned the hard way not to chase yield at the expense of dividend quality.
Secondly, I don't expect to withdraw any income from my portfolio for at least 10 years. This means that finding businesses that can deliver compound growth ahead of inflation is more valuable to me than maximising upfront yield.
If I was investing for maximum income today, my choices - and my scoring system - might be a little different.
Those caveats aside, dividend yield is important to me. My screening system scores stocks using a blended average of two metrics:
5-year average yield
Current year forecast yield
DCC's dividend yield tends to average just under 3%. That's below the portfolio average and indeed the wider market average. For this reason, DCC's dividend yield scores a modest 2/5 in my system.
Valuation: fair
The dividend yield section above is the first time I've mentioned any valuation metrics. I see yield as a useful indicator of valuation, but it's certainly not the only one I use.
I'm not looking for deep value or bargain stocks for this portfolio. My goal when scoring stocks for value is simply to try and ensure that I'm paying a reasonable price for earnings that are backed by free cash flow.
To score stocks for value, I use two simple metrics, evenly weighted to produce an overall score:
Earnings yield (EBIT/EV)
Free cash flow yield
DCC scores a respectable 4/5 for valuation.
Profitability: slightly above average
They say that experience is what you get when you don't get what you want. One experience I've had is to learn what happens when you invest in businesses which don't generate sufficient returns to cover their cost of capital.
Even if the business is trading well and generating plenty of cash, the share price will be stagnant and may 'inexplicably' fall. Shareholders will suffer slow-motion value destruction as the profits generated by the business are entirely consumed by capex and dividends.
I tend to find that an easy way to spot such value destroyers is by monitoring the change in net asset value per share.
Vodafone is a notorious example of a company that has failed to generate equity value. Here's a chart from SharePad showing NAV per share since 2007: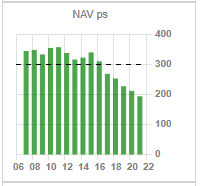 And here's the equivalent chart for DCC: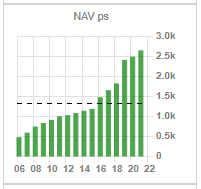 In my view, it's no coincidence that Vodafone's share price is unchanged since 2006. DCC's share price has risen by 290% over the same period.
All of this is a roundabout way of explaining why I use return on capital employed (ROCE) and return on equity (ROE) as my primary measures of profitability. In my view, these are probably the best measures of real value creation for shareholders.
N.B. DCC uses an adjusted measure of ROCE in its reporting. This delivers a significantly different result to my preferred statutory measure. I've discussed this at some length in a new post here.
My screening system relies on a standard method of calculating ROCE that's not flattered by adjustments. To score companies for profitability, I use a weighted average of three metrics
TTM ROCE
5yr average ROCE
5yr average ROE
DCC scores 3/5 for profitability, reflecting the group's fairly average (statutory) ROCE of c.10%.
Fundamental Health: no stress
The final element of my scoring system is intended as a kind of balance sheet sanity check. I want to make sure that the company is not achieving good results at the expense of excess leverage or potentially unmanageable debt servicing costs.
To assess this, I use two measures:
TTM fixed charge cover
Net debt/5yr average profits
DCC consistently maintains low levels of leverage and a high level of fixed charge cover (EBIT/net interest paid). I've no concerns about debt or balance sheet issues at this firm. DCC scores a solid 4/5 in for fundamental health.
Conclusions: plenty to like
After scoring a stock on individual criteria, my screening system sums, weights and normalises these scores to give a total out of 100.
DCC scores 76/100 at the time of writing (Jan 2022). This puts the company in the top decile of stocks that qualify for my screen at this time.
Despite some reservations about the way DCC reports ROCE, I've been consistently impressed by this business for some time. Cash generation is strong, profitability is consistent, and the group's long-term record of growth is impressive.
On balance, I believe DCC is likely to be able to continue delivering attractive returns for shareholders. I think the shares are probably fairly valued at current levels, but not expensive. I'm happy to continue holding DCC in both the model portfolio and my own personal portfolio.
To make sure you don't miss out on future articles, please hit subscribe to receive all my posts by email and gain access to member-only areas of the site.
I'll be adding a comment facility to this site as soon as I'm able to; I look forward to your feedback over the coming months. In the meantime, you can always reach me on Twitter @rolandhead or by email.
Disclaimer: This is a personal blog. The information provided is for information and interest. Nothing I say should be construed as investing advice or recommendations. The investing approach I discuss relates to the system I use to manage my personal portfolio. It is not intended to be suitable for anyone else.
You should carry out your own research and make your own investing decisions. Investors who are not able to do this should seek qualified financial advice. Reasonable efforts are made to ensure that information provided is correct at the time of publication, but no guarantee is implied or provided. Information can change at any time and past articles are not updated.