Portfolio shares: Direct Line's 9% yield looks safe to me
FTSE 250 insurer Direct Line Insurance (LON:DLG) boasts a forecast dividend yield of 9%. I explain why the stock is a member of my model portfolio.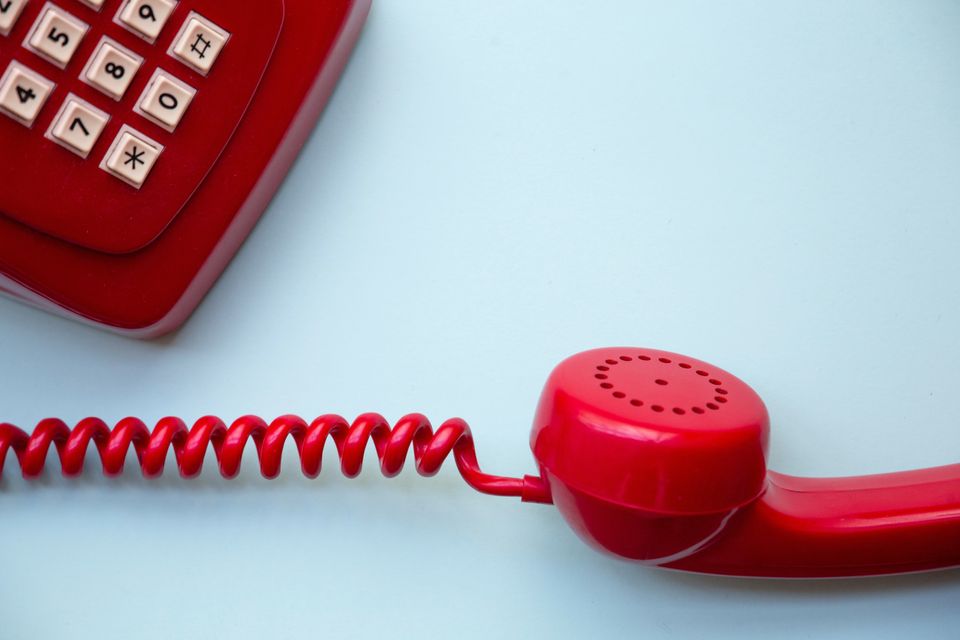 Disclosure: Roland owns shares in Direct Line Insurance Group.
In my portfolio share reviews so far, all the shares I've covered have been non-financial stocks. This week I want to take a look at one of the portfolio's financial stocks.
The reason I'm labouring the point here is that my screening system uses a slightly different set of rules for financial stocks. I do this to better reflect the metrics that are typically used to measure the performance of these businesses. For example, I use return on equity as an alternative to return on capital employed.
This week I'm going to take a look at one of the highest-yielding stocks in the quality dividend model portfolio and my personal holdings. In fact, it's one of the highest yielders on the London market today.
Direct Line Insurance Group (LON: DLG) is a well-known business and one of the UK's largest general insurers. Those of us who watched television in the 1990s will remember the animated red telephone used in the Direct Line adverts.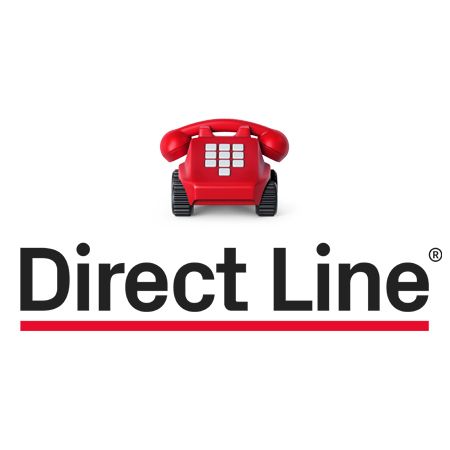 Today, this FTSE 250 firm's aim is to interact with customers online, rather than over the phone. But the telephone logo remains, as does the group's focus on direct sales and vertical integration. In addition to its core Direct Line, Churchill and Privilege insurance brands, DLG also owns one of the UK's largest car repair networks and the Green Flag breakdown service.
I've owned this stock in my personal portfolio for several years. While it's not  yet delivered much in the way of capital gains, I've received a consistently high yield from the stock.
In the background, CEO Penny James has been guiding the business through a period of technology investment and broader upgrades. While profits have been pretty flat in recent years, I think the group is likely to deliver a stronger performance over the next few years.
As far as I can see, the 8%+ level of income I've received should be sustainable. Broker forecasts suggest a yield of more than 9% for the current year. I've chosen the shares for the model portfolio and remain happy to hold them myself. Here's why.
Direct Line Insurance: crunching the numbers
Description: FTSE 250 UK general insurer operating in the motor, home, commercial and breakdown markets.
| | | |
| --- | --- | --- |
| Ticker: (LON: DLG) | Quality Dividend score: 69/100 | Forecast yield: 9.4% |
| Share price: 258p | Market cap: £3.4bn | All data at 10 March 2022 |
Latest accounts: Preliminary results for 2021 (08/03/22) – I'll look at these results in more detail in my monthly review at the end of March.
In the remainder of this review, I'll step through the different stages in my dividend screening system, and explain why I've chosen Direct Line for the model portfolio. Unless specified otherwise, the financial data I use in this process is drawn from SharePad.
Dividend Culture: a classic insurer
Insurance stocks have a reputation for being good income investments. They collect lots of cash, hold onto what's needed and return the surplus to shareholders. Recent years have seen pricing pressure, making it more logical for insurers in competitive markets to return capital than pursue growth at unattractive rates.
Of course, insurers don't always manage to deliver reliable streams of surplus cash. But I think that Direct Line has lived up to this promise since the group was spun out of RBS (now Natwest Group) in 2012.
Since its IPO, Direct Line has paid around 260p in dividends. An investor who bought at 155p at the IPO will have seen a cash return of nearly 170%, while still owning shares that are worth 260p at the time of writing.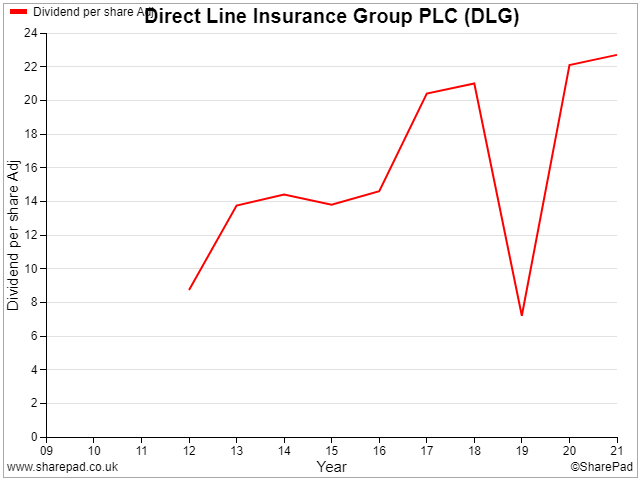 I score a company's dividend culture by looking at its history of consecutive dividend payments. Direct Line has paid a dividend for 10 years, each year since its flotation.
Direct Line scores 2/5 for dividend culture in my screening system. This low score is due to the company's relatively short history as an independent firm. But I'm confident this score should increase over time.
Dividend Safety: a strong score
Dividend safety is quite high on my list of priorities for a dividend stock.
I score dividend safety for financial stocks as a weighted blend of the company's five-year average dividend payout ratio and its trailing 12-month (TTM) payout ratio.
Direct Line's payout ratio has increased in recent years, suggesting the margin of safety may be diminishing: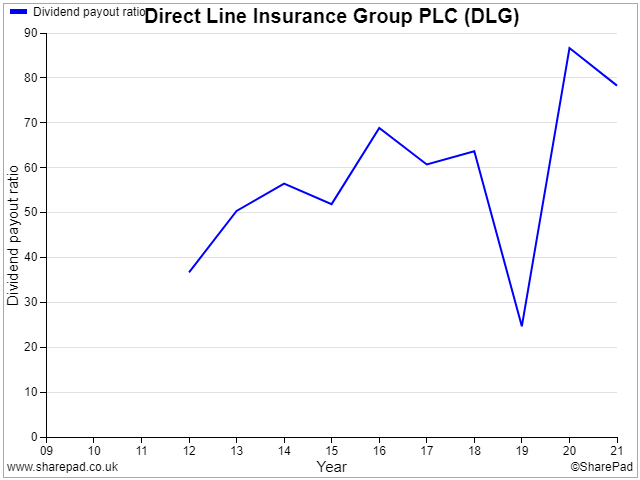 However, the group's regulatory solvency ratios have remains healthy and stable. Dividend cover is also expected to improve over the next couple of years.
I think that what has been happening is that the group has been returning surplus capital rather than redeploying it into a competitive market at lower rates of return. I don't have a problem with this.
Direct Line scores 4.7/5 for dividend safety in my screening system.
Dividend Growth: middling
Dividend growth is one area where my screening system uses a different formula for financial stocks.
Dividend growth itself is easy enough to measure. Just look at the dividend payments. But I'm looking for indicators of sustainable dividend growth, so I combine dividend per share growth with a second factor.
For financial stocks, I use the following factors, evenly weighted, to score dividend growth:
5yr average dividend growth
5yr average net asset value (NAV) per share growth
Over the years, I've come to have a greater appreciation for the usefulness of NAV per share. In this case, what I'm looking for is any suggestion that the business might be funding its dividends through a slow-motion liquidation process.
For example, if a company's NAVps falls from 100p to 95p in a year and it pays a 5p dividend, the NAV total return to shareholders is zero. The company has effectively liquidated some of its assets to fund the dividend.
In my experience, companies whose NAV is repeatedly eroded by dividend payments often underperform the market. No surprise really – they are destroying value, rather than creating it. They may also be borrowing cash to fund dividends – not a good look.
Direct Line is not without fault here. The company's NAVps has not really made any progress since its flotation. While the valuation multiple of the shares may have increased, the book value of the stock has not really increased.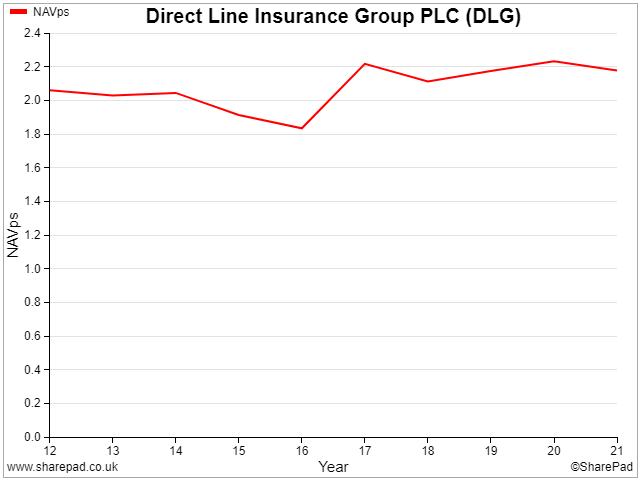 In fairness, NAVps hasn't fallen, either. Given the size of the dividend returns received during the period, I'm comfortable with this situation at the moment. However, Direct Line's lack of NAV growth does put a dent in its dividend growth score.
Direct Line scores a mediocre 2/5 for dividend growth in my screening system.
Dividend yield: monster
The combination of modest valuation, strong cash generation and a generous payout ratio means that Direct Line is consistently a high yielder.
When scoring a stock for its dividend yield, I use a blend of three measures intended to give a picture of past, present and expected future yield:
Forecast dividend yield
Five-year average dividend yield
TTM dividend yield
Unsurprisingly, Direct Line scores 5/5 for dividend yield in my screening system.
Profitability: above average
Direct Line has struggled to deliver growth in recent years. But the company has maintained its pricing discipline and has not compromised on profitability to pursue new customers. The group's return on equity has remained firmly in double digits since its flotation:
This strong profitability illustrates why Direct Line is able to pay such generous dividends without eroding its net asset value. The company is generating sufficient returns on equity to be able to fund these payouts from surplus profits.
Profitability is one of the areas where I score financial stocks differently to non-financials. I use two measures in my scoring:
Five-year average return on equity
TTM return on equity
Direct Line scores 4/5 for profitability in my screening system.
Leverage: Comfortable
Calculating leverage for non-financial businesses is easy enough. It's rather harder for financial businesses, especially those in heavily-regulated sectors. I'm not entirely sure my understanding of this area is as good as it should be – it's a topic I aim to learn more about.
In the meantime, I've opted for a simple, vanilla measure of leverage for the financial version of my screen. My focus is on the ratio of total assets to equity.
The basis for this choice is that this ratio indicates the extent to which the group's assets are funded by sources other than equity. In other words, leverage of some kind.
This probably isn't a perfect measure, not least because appropriate levels of leverage will vary between different types of business. But my hope is that it's a useful guide that will help draw my attention to companies whose share price depends on a wafer-thin slice of equity.
One thing I'm fairly confident of is that a lower asset/equity ratio reduces risk, all else being equal. Direct Line's ratio has fallen steadily since its IPO: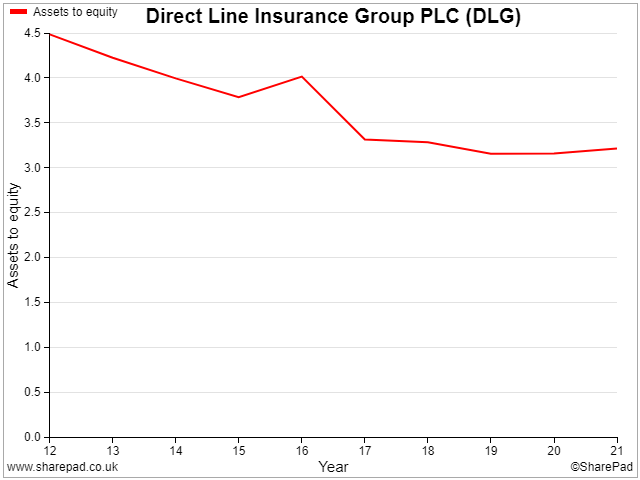 Direct Line scores 3/5 for leverage in my screening system.
Conclusion: Probably a good, improving business
After scoring a stock on all of these criteria, my screening system weights, sums and normalises these scores to give a total out of 100.
Direct Line scores 69/100 in my dividend screening system at the time of writing (March 2022).
I'm happy to keep owning Direct Line in the model portfolio and my personal holdings. I think that the company is doing the right things and should benefit from expected cyclical improvements in this sector.
My main concern is that the group needs to break out of the low-growth trap it's been stuck in for several years. I'm not expecting fireworks, but some progression is needed in my view.
Another potential concern is the impact of new FCA pricing regulations introduced this year. These ban the invidious practice of price walking, which means charging renewal customers more than new customers for the same policy.
I'm pleased to see the back of this practice. I hope that it will mean I have to do less tedious phoning around and hagggling at renewal time. But the impact on insurers is not yet clear. Both Direct Line and rival Admiral said in their 2021 results that they expect some impact, but it's too soon to know much more than this.
In the interests of transparency, I should point out that Admiral actually scores slightly more highly overall in my screening system than DLG.
Arguably, I should swap the two, given Admiral's track record of superior growth. However, this kind of active trading is not part of my strategy. There's nothing much wrong at Direct Line as far as I can tell, and I believe the performance of the business is improving. Given the modest valuation, ditching the stock now seems counterintuitive.
I'm also aware that in contrast to the situation at Direct Line, Admiral's profits are expected to fall in 2022 and 2023. Although I think there's a lot to admire in Admiral's business, I don't see any compelling reason to switch at this time.
To make sure you don't miss out on future articles, please hit subscribe to receive all my posts by email and gain access to member-only areas of the site.
I'll be adding a comment facility to this site as soon as I'm able to; I look forward to your feedback over the coming months. In the meantime, you can always reach me on Twitter @rolandhead or by email.
Disclaimer: This is a personal blog. The information provided is for information and interest. Nothing I say should be construed as investing advice or recommendations. The investing approach I discuss relates to the system I use to manage my personal portfolio. It is not intended to be suitable for anyone else.
You should carry out your own research and make your own investing decisions. Investors who are not able to do this should seek qualified financial advice. Reasonable efforts are made to ensure that information provided is correct at the time of publication, but no guarantee is implied or provided. Information can change at any time and past articles are not updated.