Portfolio shares: Is Legal & General's 7% dividend yield too cheap to ignore?
Why are Legal & General shares so unloved by investors? I've been taking a look at this stock's 7% dividend yield and financial quality metrics. In my view, there's a lot to like.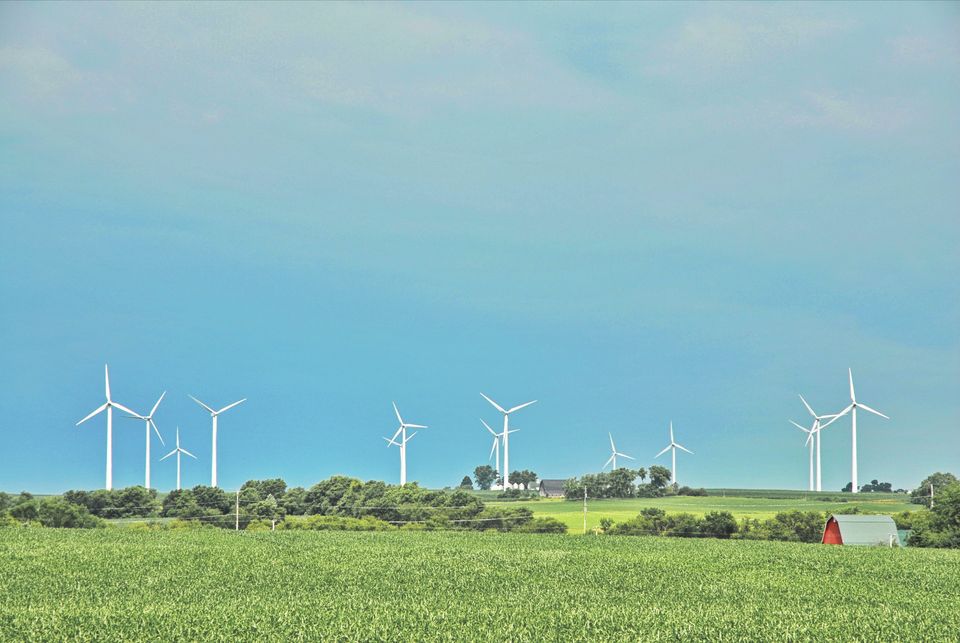 This week I'm looking at a 186-year old FTSE 100 business that has generated double-digit returns on equity and consistent growth in recent years.
The company in question is Legal & General Group (LON: LGEN), one of the UK's largest asset managers and insurers. L&G had £1.4tn of assets under management at the end of last year and is a big player in the retirement market.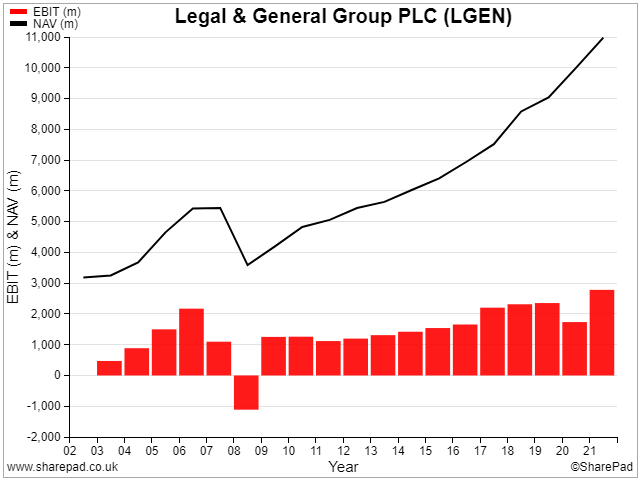 However, despite a seemingly impressive track record, Legal & General is relatively unloved by UK investors. The shares trade on just eight times forecast earnings, with a dividend yield of over 7%.
That's more than 2% higher than the yield on offer from most of the big UK banks, despite their dismal record since the 2008 financial crisis.
I'm a fan of Legal & General and see the stock as a good income investment. The dividend was maintained (albeit cut) through the 2008 financial crisis. It was paid as usual in 2020, when many insurers withheld their payouts.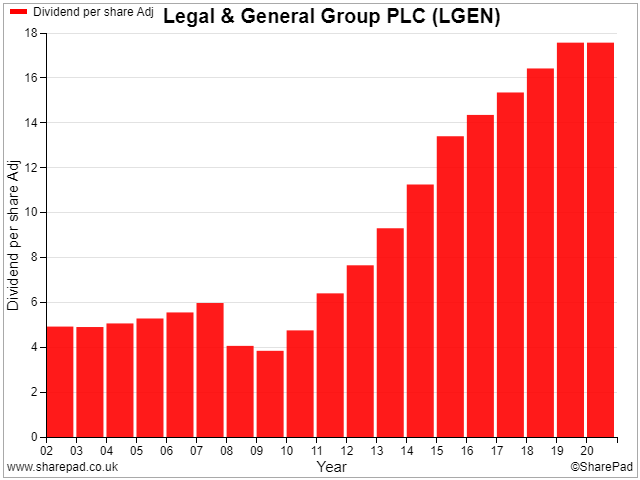 Of course, there are some risks. Once concern for me is the sheer size and complexity of this business. Legal & General's business today is split into four divisions:
L&G Capital (£461m/17%  FY21 op profit): Asset origination for L&G and third parties. Including housing, renewable energy and commercial property. Also technology investments.
L&G Investment Management (£422m/16% FY21 op profit): A global asset manager with more than £1.4tn under management at the end of 2021.
L&G Retirement Institutional (£1,154m/43% FY21 op profit): specialists in pension risk transfer, such as bulk annuities and pension buyouts.
L&G Retail (£620m/23% FY21 op profit): Retirement and protection products, such as ISAs, personal pensions, life insurance and income protection.
I think that one of the important things to appreciate about Legal & General is the interconnected nature of its operations. The group's pension, asset management and insurance businesses provide reliable pools of long-term capital.
L&G uses this capital to generate reliable cash flows to meet its obligations to pension risk transfer clients and retirees.
To achieve these aims, the group's capital can be invested in alternative assets originated by the L&G Capital business, as well as conventional assets such as equities and bonds.
This diagram from the FY21 results presentation provides an overview of the virtuous circle that lies at the core of the group's business model: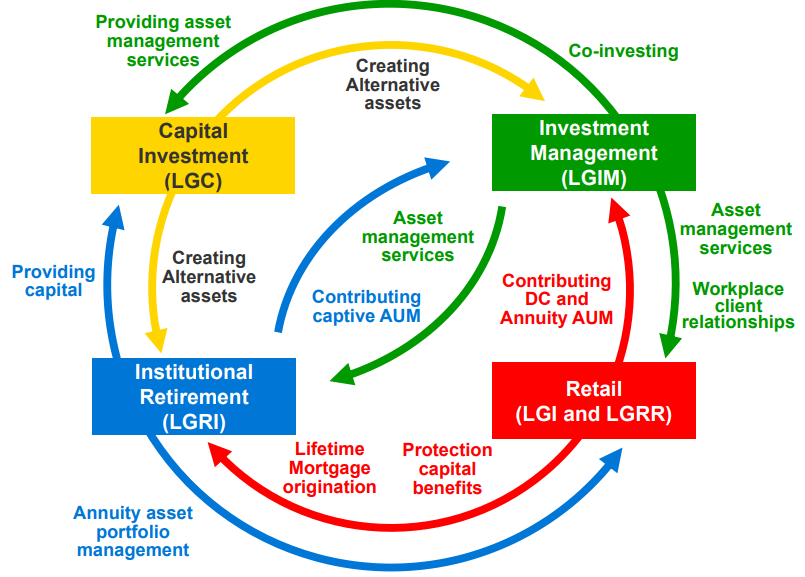 If you're interested in learning more, I'd recommend a look at the presentation (linked above). There's a lot more detail in the slides, including a breakdown of areas where LGC is investing and hopes to expand.
It's remarkable how broad a footprint this business is developing. Legal & General is becoming a provider of rental housing, renewable energy and essential infrastructure. The group's reach is increasingly global, too. By the end of last year, £479bn of LGIM's £1.4tn AUM was international.
I think this business could have further to grow. Return on equity and cash generation remain strong, and the group's focus on permanent capital marries up well with the public-private opportunities that exist in areas such as housing and infrastructure.
The obvious caveat to this is that Legal & General's growth and growing private asset focus has come during a period of record low interest rates and inflation.
Both of these trends finally seem to be reversing. Predicting the likely impact of big macroeconomic trends on L&G's assets and cash flow is beyond my pay grade. At this stage investors have little choice but to trust that L&G's analysts have done their sums correctly.
As I'll explain, this stock isn't without risk for equity investors. But the group's long and successful track record gives me confidence in L&G's processes and culture. When paired with a well-supported 7% dividend yield, I see the stock as a good choice for my quality dividend portfolio.
Legal & General: crunching the numbers
Description: FTSE 100 asset management, retirement and life insurance group.
| | | |
| --- | --- | --- |
| Legal & General (LON: LGEN) | Quality Dividend score: 75/100 | Forecast yield: 7.2% |
| Share price: 271p | Market cap: £16.1bn | All data at 14 April 2022 |
Latest accounts: Full-year results for 2021 (09/03/22)
In the remainder of this review, I'll step through the different stages in my dividend screening system, and explain why I've chosen Legal & General for the model portfolio. Unless specified otherwise, the financial data I use in this process is drawn from SharePad.
As a reminder, I use slightly different screening rules for financial stocks. I'll try and highlights these differences as I go, but I covered this topic more fully in this recent piece on Direct Line.
Dividend culture: near-perfect
I score a company's dividend culture by looking at its history of consecutive dividend payments, ignoring any cuts.
According to SharePad, Legal & General has paid dividends without a break for the last 30 years. Stockopedia's records go a bit further and show unbroken payments back to 1987.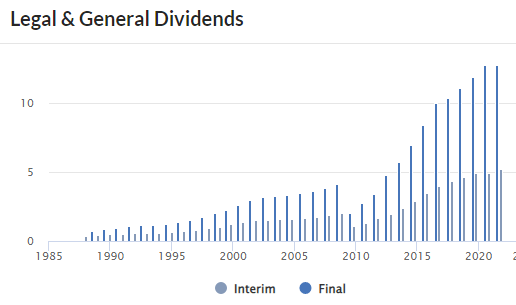 I think it's fair to say that Legal & General has a strong dividend culture.
The company's current guidance is for a progressive dividend with low to mid-single digit percentage growth from 2020-2024.
I'd guess that the pace of dividend growth may moderate slightly compared to the recent past. But with a starting yield of 7.2%, I'm not too concerned about this.
Legal & General scores 5/5 for dividend culture in my screening system.
Dividend safety: excellent
I score stocks for dividend safety by looking at their dividend payout ratios over the last five years. Inverted, this is the same as looking at dividend cover by earnings.
Legal & General has maintained its payout ratio at around 60% in recent years. Notably, even the 2020 payout was still covered by earnings.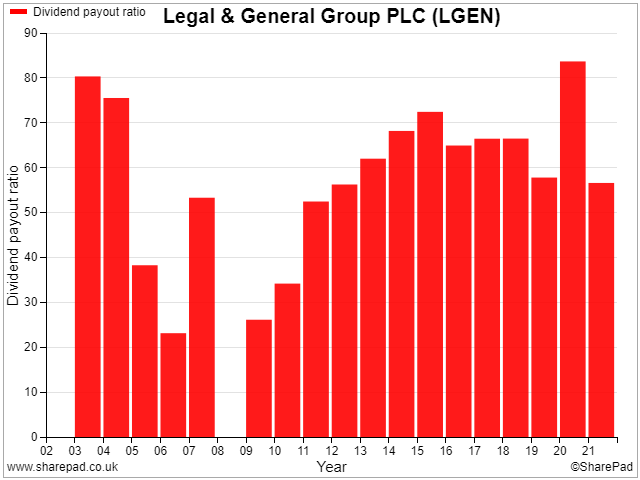 Legal & General's payouts have consistently been covered by cash generation too. In 2021, for example, cash generation rose by 12% to £1.7bn. The dividend rose by 5% to 18.45p, or around £1.1bn. That's a 1.5x level of cover – the equivalent of free cash flow cover in a non-financial business.
Looking ahead, the company expects to maintain the ratio of cash generation to dividends at around 1.5 times:

Note that expected cash generation of £8bn by 2024 is equivalent to half the current market cap of £16bn. This is a cash-generative business.
Unsurprisingly, Legal & General scores 5/5 for dividend safety in my screening system. I don't see any obvious risks to this payout.
Dividend growth: solid
My aim when scoring a stock for dividend growth is to look at sustainability, as well as outright growth. For financial stocks, I do this using two metrics:
5-year average dividend growth
5-year net asset value per share growth
As I've discussed previously, I'm looking for companies whose net asset value is rising despite their dividend payouts. What I want to avoid are slow-motion liquidation situations, as I judge these less likely to deliver reliable dividend growth over long periods.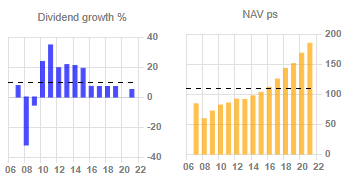 These metrics look broadly reassuring to me. But I can see a couple of potential concerns. Dividend growth has slowed markedly since 2015, and the company's guidance suggests growth is likely to remain more measured.
Although NAVps growth has been impressive, I think this should probably be seen against a backdrop of quantitative easing and rising global asset values. Hard assets such as property and infrastructure are worth much more than they were a decade ago, almost without exception.
I can see some cyclical risk here, but I on balance I don't see anything to suggest Legal & General's dividend growth has not been sustainable.
Legal & General scores a middling 3/5 for dividend growth in my screening system.
Dividend yield: a real high yielder
Legal & General has been a high yielder for a long time. But the stock's dividend yield has risen in recent years, despite continued strong results. Today's forecast yield of 7.2% is at the top of the stock's historic range.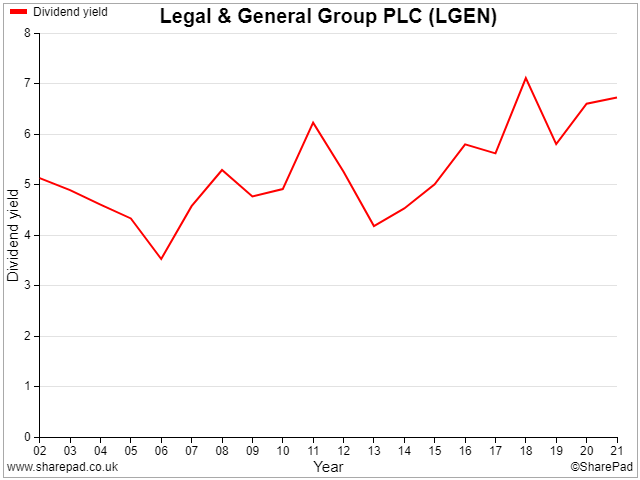 The chart shows that the dividend yield has been gradually trending upwards in recent years. I guess this might be a reflection of the cyclical risks I've suggested above. Perhaps the market is pricing in slower growth in the future.
I'm not too sure. What I can see is that Legal & General's dividend payout has been sustainable and still looks sustainable to me.
On balance, my feeling is that these shares may well be cheap at current levels.
With such a high yield, I only need modest dividend growth to generate an expected total return ahead of the long-term market average of c.8%. This seems realistic enough to me, based on what we know today.
Legal & General scores 5/5 for dividend yield in my screening system.
Profitability: strong returns
The main measure of profitability I use for financial businesses is return on equity. As I mentioned at the top, Legal & General has a strong record in this regard.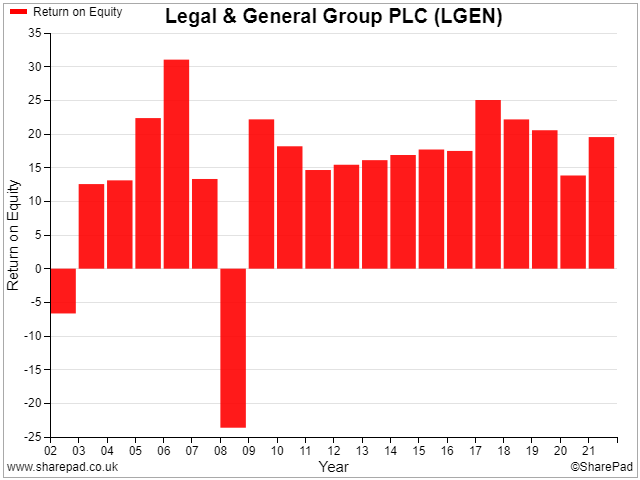 I'll comment some more on the nature of Legal & General's equity in the next section. But I'm impressed and happy with the consistency and level of returns being generated by this business.
Legal & General scores 4.7/5 for profitability in my screening system.
Leverage: some interesting questions
Legal & General's high returns on equity are achieved using a rather large balance sheet. At the end of 2021, the group reported assets of £582.6bn and liabilities of £571.7bn.
Balance sheet equity was just £10.9bn. Using my conventional leverage ratio of assets to equity, Legal & General's balance sheet appears highly leveraged. But I'm not convinced this is an accurate interpretation of the situation.
Legal & General isn't investing borrowed money to boost returns (unlike, say, a hedge fund). Instead, the company owns assets and is contracted to generate future cash flows from those assets to fund pension and insurance payouts.
I've come to the conclusion that my leverage scoring system is simply not appropriate for life insurance and pension companies.
For now, at least, I'm going to rely on the L&G's Solvency II capital surplus ratio as a measure of balance sheet strength.
This regulatory measure looks at the amount of surplus capital an insurer holds to cover losses that may occur with a certain level of probability over the next year.
It's a lot more complicated than this, but I don't claim much expertise here. I plan to spend some time learning more about insurers' balance sheets.
In the meantime, what I can tell you is that Legal & General's Solvency II coverage ratio was 187% at the end of 2021. To put this in context, FTSE 100 life insurer Phoenix Group reported coverage of 180%, while for Aviva the figure was 244%.
From what little I understand, this disparity may partly be due to Legal & General holding a higher proportion of illiquid assets (e.g. property, infrastructure) than Aviva, which is a slightly different business.
However, Solvency II coverage calculations can also be heavily affected by interest rates. Rising interest rates have a positive impact. L&G's management estimated that by 7 March 2022, the group's coverage ratio had risen to 198%.
Conversely, Aviva has soaked up much of its surplus capital with a recent acquisition, which is expected to have reduced its pro-forma coverage ratio to 186%.
There's more to learn here. But for now, my only real concern about L&G's balance sheet is that its size and complexity mean that it's extremely difficult for anyone to understand.
Safety rests on detailed modelling, projections, and regulatory formulae. Until the next serious financial crisis strikes, who can tell how robust these calculations might be?
In this case, I gain confidence from Legal & General's 186-year history in this sector. To me, this suggests the business has fostered a strong risk management culture over nearly two centuries of trading.
For what it's worth, Legal & General scores 0/5 for leverage in my screening system. So do life FTSE 100 insurers Phoenix Group and Aviva. For this reason and those outlined above, I'm disregarding this score. For now, I'm happy to trust the group's healthy regulatory ratios and otherwise strong quality scores.
Conclusion: LGEN could be a good income investment for me
Despite the concerns I've discussed above, I feel comfortable owning Legal & General shares. I believe this is a good, well-run business that should continue to provide me with a reliable, growing income.
Legal & General scores 75/100 in my dividend screening system at the time of writing (April 2022). This is achieved despite a zero score for leverage, highlighting the group's strong showing in most other areas.
I remain happy to hold LGEN shares in my personal portfolio and in the quality dividend model portfolio.
Disclosure: Roland owns shares in Legal & General Group.
---
To make sure you don't miss out on future articles, please hit subscribe to receive all my posts by email and gain access to member-only areas of the site.
I'll be adding a comment facility to this site as soon as I'm able to; I look forward to your feedback over the coming months. In the meantime, you can always reach me on Twitter @rolandhead or by email.
Disclaimer: This is a personal blog and I am not a financial adviser. The information provided is for information and interest. Nothing I say should be construed as investing advice or recommendations. The investing approach I discuss relates to the system I use to manage my personal portfolio. It is not intended to be suitable for anyone else.
You should carry out your own research and make your own investing decisions. Investors who are not able to do this should seek qualified financial advice. Reasonable efforts are made to ensure that information provided is correct at the time of publication, but no guarantee is implied or provided. Information can change at any time and past articles are not updated.