Portfolio shares: Is Unilever still a quality dividend stock?
Roland Head runs Unilever through his quality dividend screening system and explains why he remains a fan of this income stock, despite slowing growth.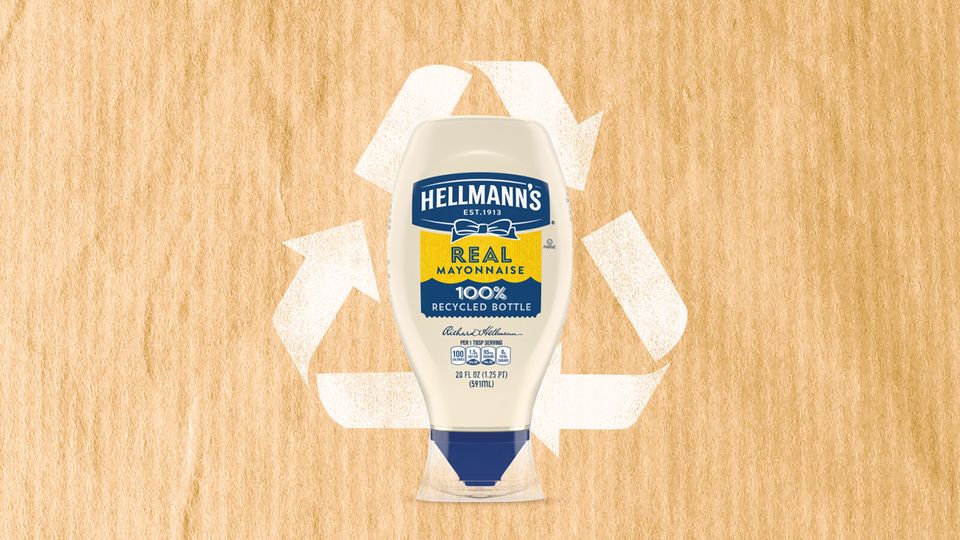 Disclosure: Roland Head owns shares in Unilever.
FTSE 100 consumer goods giant Unilever (LON: ULVR) is one of 20 shares in my systematic income portfolio, which I've named the quality dividend model portfolio. I also hold the shares in my personal portfolio, which largely mirrors the model portfolio.
Unilever has made headlines this week as a result of its unsuccessful £50bn bid for GlaxoSmithKline's Consumer Healthcare business. As a Unilever shareholder, I'm a little relieved that the board won't be splashing £50bn on this business. Although I think GSK's consumer business is probably attractive - I can see myself owning the shares one day - I think the price for total control might have been too steep.
What's more, I have some sympathy with Fundsmith founder Terry Smith's view that Unilever's management need to get their own house in order before considering big acquisitions. Smith has been a vocal critic of Unilever in recent weeks. He accused management of having "lost the plot" in its quest to give its brands purpose and opposed the GSK proposal.
Is Unilever's performance really that bad?
Unilever was one of the worst-performing holdings in Smith's Fundsmith portfolios last year, so I can see why he might be frustrated. But for those of us who don't have Fundsmith's outstanding record of growth, has Unilever been such a terrible investment?
In part I think it depends on your perspective. Unilever stock has (almost) tripled over the last 20 years, while paying an unbroken stream of rising dividends. I estimate that's equivalent to an annualised total return of around 8%-10%. Not a terrible result.
On the other hand, as I write, Unilever shares are trading at broadly the same level as they were five years ago. That means the annualised total return is limited to a dividend yield of 3%-4%. That's less impressive.
To put this performance in perspective, here's how Unilever and some of its global peers have performed over the last five and 10 years:
| | | |
| --- | --- | --- |
| | 5yr price change | 10yr price change |
| Proctor & Gamble | 85% | 143% |
| Nestlé | 64% | 118% |
| Colgate-Palmolive | 24% | 80% |
| Unilever | 10% | 80% |
| Danone | -4% | 13% |
| Reckitt | -9% | 89% |
| Kraft-Heinz | -58% | -41% |
Source: Stockopedia
A quick and rather superficial inspection of the data suggests to me that P&G's outperformance may be deserved (and criticism of Unilever's more recent performance may be justified):
| | | |
| --- | --- | --- |
| | 5yr avg revenue grwth | 5yr avg op profit growth |
| Proctor & Gamble | 3.1% | 5.4% |
| Unilever | -1% | 2.1% |
However, the relative valuations of each business appear to reflect these differences. Unilever actually looks a little cheaper to me at the moment, with an earnings yield (EBIT/EV) of around 8%, compared to c.5% for P&G.
Despite his criticism, Terry Smith continues to hold Unilever. Explaining this in his 2021 letter to shareholders, he said he's kept the position because "we think that its strong brands and distribution will triumph in the end". That just about sums up my view too.
Brands such as Ben & Jerry's, Domestos, Dove, Hellmann's and Knorr are familiar names and a regular presence in many of our lives. They're also powerful cash generators with stable sales. The group's presence in global emerging markets - which now generate nearly 60% of sales - is also a key attraction for me. I don't know of many better ways to gain exposure to the global consumer economy.
Finally, I think it's worth remembering that Unilever can trace its roots back to the 1860s and has not cut its dividend for more than 50 years. Over this long period, the group's product range and brands have evolved. I don't see why they shouldn't continue to do so.
I also have a second reason for holding the stock in my quality dividend portfolio: it's one of the top scorers in my dividend screening system. Read on to find out why.
Unilever: crunching the numbers
Unilever (LON: ULVR)
Share price: 3,655p
Shares in issue: 2,560,966,469
Market cap: £94bn
In the remainder of this review, I'll step through the different stages in my dividend screening system and explain why Unilever scores highly for me. Unless specified otherwise, the financial data I use in this process is drawn from SharePad.
Dividend Culture: blue chip
As I discussed in my recent piece on DCC (I hold), I measure a company's dividend culture simply by counting the number of years of consecutive dividend payments.
Unilever has a long, unbroken record of dividends. Exactly how long is open to debate. SharePad says 29 years for Unilever plc shares, which is the maximum extent of its records (note the switch from half-yearly to quarterly payouts):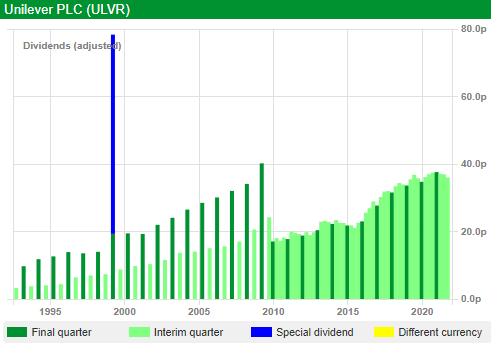 However, if you'd like to understand Unilever's dividend history in more detail, I'd recommend this excellent piece by European Dividend Growth Investor. By trawling through almost every Unilever annual report since 1929, EDGI has built up a continuous dividend history that encompasses Unilever NV (the former Dutch business) and Unilever plc. It's perhaps overkill for my purposes, but is a great piece of research.
Getting back on topic, Unilever's dividend culture scores a maximum 5/5 in my screening system.
This company's long and unbroken record of dividend payments is outstanding by any standards. I'm relieved that this won't be put at risk by the acquisition of GSK's consumer healthcare business.
Dividend Safety: slightly disappointing
As Shell shareholders discovered in 2020, even the longest dividend track records can be broken if a payout becomes unaffordable. To try and minimise the risk of dividend cuts in my portfolio, my screening system scores stocks for dividend safety using three criteria:
Dividend payout ratio
Free cash flow dividend cover
Leverage (net debt/5-year average net profit)
Unilever's dividend payout ratio has been stable for a long time, at around 65% of earnings. For a mature, defensive business with reliable cash flows, I'm comfortable with this.
Free cash flow cover for the dividend has averaged 1.4x over the last five years, which is also acceptable to me. However, as this chart from SharePad illustrates, FCF cover has trended downwards over the last 30 years, while the payout ratio has trended higher: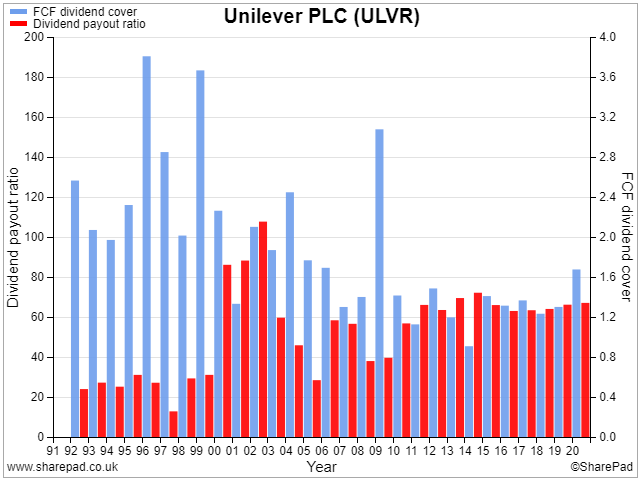 Despite this tendency to return a greater proportion of free cash flow and earnings to shareholders, I think Unilever's dividend remains adequately covered. But the situation is not quite as strong as I might like.
Unilever scores 3.3/5 for dividend safety in my screening system.
Dividend Growth: robust
My dividend system is designed to satisfy my personal investment goals. As I'm still in the accumulation phase of my investment life (working full time and saving), one of my requirements is that the dividends from my portfolio must grow, preferably ahead of inflation.
All else being equal, sustainable dividend growth should be indicative of earnings and free cash flow growth in the business. In turn, this should support long-term share price growth.
The metrics I use to judge dividend growth are quite simple and reflect my focus on cash generation.
Five-year average dividend growth
Five-year average free cash flow growth
Unilever's free cash flow has grown by an average of 8.7% over the last five years. The group's dividend has grown by an average of 10.9% over the same period. These are respectable numbers, in my view, although the higher dividend growth rate reflects the decreased FCF cover I noted in the dividend safety section above.
Unilever scores 4/5 for dividend growth in my screening system.
Dividend Yield: acceptable
There's normally some trade-off between high yield and growth. As I explained above, dividend growth is important to me at this stage in my life. For this reason, I'm happy to accept lower yields - even below the FTSE 100 average. (Although my aim is that the model portfolio's forecast yield should always be above the FTSE 100 average.)
Unilever's recent share price weakness has left the stock's forecast yield hovering around 3.9% at the time of writing. That's very close to the FTSE 100 yield, which is expected to be around 4% this year.
Interestingly, SharePad data suggest this is the highest yield for Unilever stock since at least 2010. I think it's probably a fair reflection of where the business is at the moment. Profit margins and return on capital remain high, but growth is sluggish.
My scoring for dividend yield is (naturally) intended to reward higher yielding stocks. I use two simple metrics, evenly weighted:
5-year average yield
Current year forecast yield
With Unilever's yield currently sitting just below the FTSE 100 yield, the shares score a modest 2/5 for dividend yield in my screening system.
Valuation: affordable
The price/earnings ratio is the most widely used valuation metric for shares - and it's useful enough. But it's not without problems.
One issue for me is that earnings per share have no fixed relationship to free cash flow. I see free cash flow as the ultimate test of the quality of a company's profits. I think it's more meaningful to value a business against the surplus cash it produces, rather than against paper profits.
Another concern is that comparing the share price to earnings tells us nothing about leverage. A company with low debt levels might be good value on a P/E of 20. A company with too much debt could be expensive on a P/E of 10.
For these reasons, my screen doesn't use the P/E ratio. Instead, I use the following metrics:
Earnings yield (EBIT/EV) - this compares earnings before finance and tax costs against the enterprise value (market cap plus net debt) of a business. In this way, it produces a valuation measure that can be used to compare businesses with different mixes of equity and debt capital.
Free cash flow yield
I use a blend of trailing 12-month and five-year average figures to score each stock for valuation. Unilever looks quite attractively valued to me at the moment, with an earnings yield of 8% and a free cash flow yield of 6.1%.
Unilever scores 4/5 for valuation in my screening system.
Profitability: still very good
My focus on growth means that I'm keen to buy shares in companies with above-average profitability. My primary measure for this is return on capital employed (ROCE). The reason for this is that mathematically, a company that generates above-average returns on capital should deliver above-average growth over time, assuming management can reinvest profits at consistent levels of return.
I don't use operating margin in my screen, although I do think it's a useful metric for assessing businesses. The reason for this is that operating margin is simply the ratio between operating profit and revenue. It does not tell us anything about the relationship between a company's profits and the capital that's been invested to generate those profits.
A company can generate high margins but low ROCE if its assets are expensive. Similarly, a business with few or cheap assets may generate a high ROCE, even with a low margin. The impact of capital expenditure, acquisitions and disposals can mean that operating margins and ROCE move in opposite directions.
Indeed, this is what seems to have been happening at Unilever in recent years: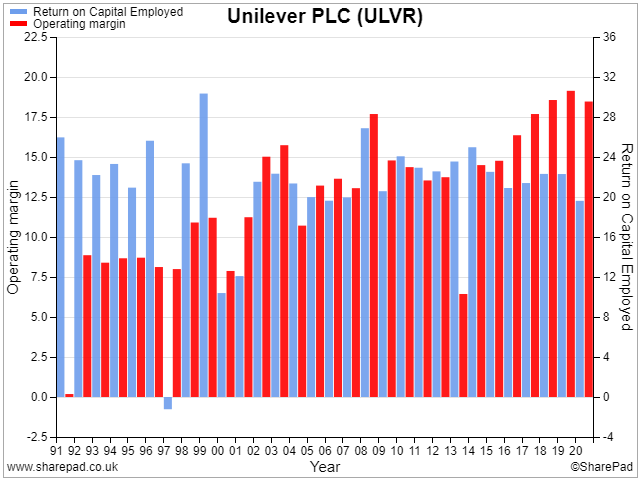 I'll be keeping an eye on further changes to Unilever's ROCE and operating margin. But for now, my view is that both metrics remain well above average and entirely acceptable.
Unilever scores an impressive 4.8/5 for profitability in my screening system.
Fundamental Health: no serious concerns
The main aim of my fundamental health checks is to reassure myself that a company is not excessively leveraged, and is comfortably able to service its debts.
In Unilever's case, debt levels and leverage have risen since 2017, when then-CEO Paul Polman took action following Kraft-Heinz's failed bid for the firm. This chart shows how EBIT, net debt and Unilever's net debt-to-EBITDA ratio have changed over the years: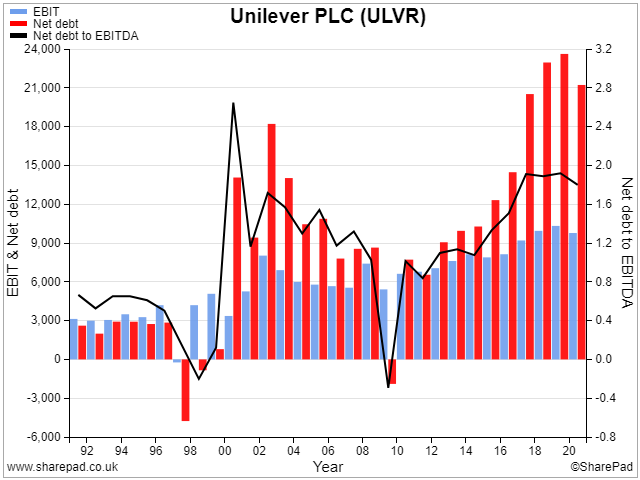 I'd prefer not to see leverage rise much higher, but the current situation does not concern me too much.
My screening system uses two metrics to assess this (somewhat narrow) measure of fundamental health:
Fixed charge cover
Net debt/5yr average profits
Unilever scores highly for fixed charge cover, thanks in part to a decade of record low interest rates. Leverage is also acceptable to me, with net debt running at 3.3 times five-year net profits. I'd like to see this a little lower, but it's below my preferred limit of five times.
Unilever scores 3.7/5 for fundamental health in my screening system. A solid score, if not outstanding.
Conclusions: I remain a fan
After scoring a stock on these individual criteria, my screening system weights, sums and normalises the scores, to give a total out of 100.
Unilever scores 77/100 in my dividend screening system at the time of writing (Jan 2022). This puts the stock comfortably in the top 10% of stocks that qualify for my screen at this time.
The share price at pixel time is around 3,650p. In my view, Unilever probably offers good value at this level, on a long-term view. It's certainly a price point where I would consider adding to my holdings.
I remain a fan of this group's strong profitability, emerging market footprint and valuable portfolio of brands. Unilever's free cash flow remains healthy and while I think the balance sheet might struggle with a £50bn acquisition, it looks strong enough to me for all reasonable purposes.
On balance, I'm happy to hold Unilever in my quality dividend model portfolio, and in my personal holdings.
To make sure you don't miss out on future articles, please hit subscribe to receive all my posts by email and gain access to member-only areas of the site.
I'll be adding a comment facility to this site as soon as I'm able to; I look forward to your feedback over the coming months. In the meantime, you can always reach me on Twitter @rolandhead or by email.
Disclaimer: This is a personal blog. The information provided is for information and interest. Nothing I say should be construed as investing advice or recommendations. The investing approach I discuss relates to the system I use to manage my personal portfolio. It is not intended to be suitable for anyone else.
You should carry out your own research and make your own investing decisions. Investors who are not able to do this should seek qualified financial advice. Reasonable efforts are made to ensure that information provided is correct at the time of publication, but no guarantee is implied or provided. Information can change at any time and past articles are not updated.