October 2022 dividend portfolio update
I review October's results from a subscriber-only UK small-cap with very high profit margins.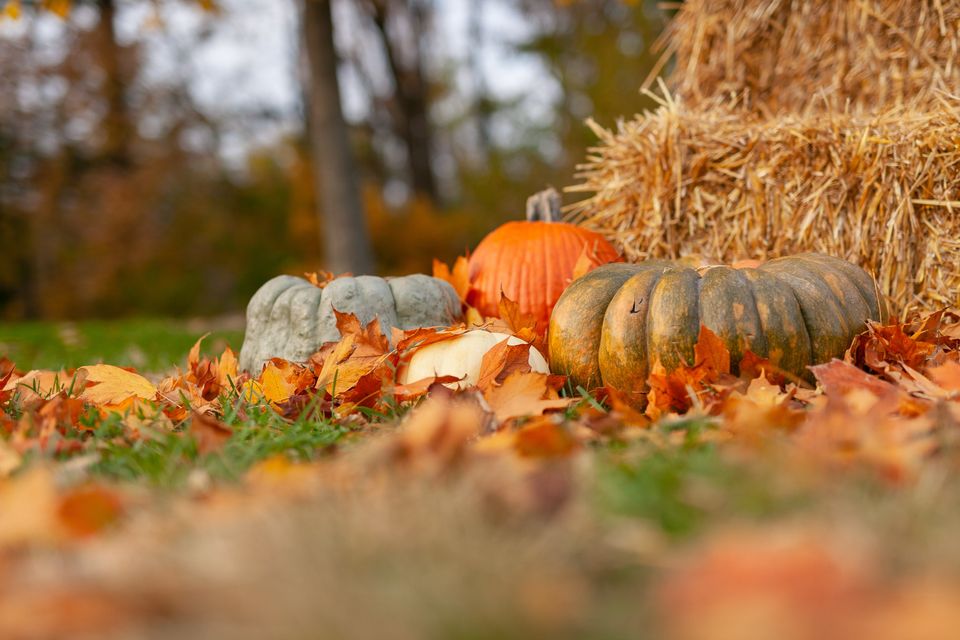 October was a quiet month for portfolio news, with just one of my stocks issuing results.
The company concerned is an AIM-listed small-cap I've written about before which benefits from very high profit margins, super cash generation and founder-management.
(Although there were several trading updates from portfolio companies, I don't generally cover these here unless they contain something unexpected. That didn't happen in October.)
---
The remainder of this post will only be available to subscribers, so I'd urge you to sign up (free) to read on. As an added bonus, free subscribers also get full access to my quality dividend model portfolio.
Rest assured I'll never spam you. You'll only get an email when I publish a new post, usually once a week.
---
Bioventix
Description: A UK company specialising in production of high-affinity sheep monoclonal antibodies for use in clinical diagnostics, typically blood tests.
| | | |
| --- | --- | --- |
| Bioventix (LON: BVXP) | Quality Dividend score: 58/100 | Forecast yield: 3.6% |
| Share price: 3,550p | Market cap: £185m | All data at 12 November 2022 |
RNS release: Results for the year ended 30 June 2022
"We are pleased with our financial results for the year which we believe reflect both the growth in the use of our products and of course some relief from the global pandemic."
Comment: This unusual and highly-profitable business produces antibodies used in clinincal testing. It also provides simple and transparent financial reporting, making its performance easy to understand. I published a more detailed write-up of this business for subscribers back in May, which you can read here.
Bioventix's latest financial results showed a respectable return to growth during the year to 30 June 2022.
Revenue up 7% to £11.7m
Pre-tax profit up 14% to £9.3m
Year-end net cash of £6.1m
Second interim dividend of 74p per share (2021: 62p)
Special dividend of 26p per share (2021: 38p)
Management say that routine medical testing for many conditions was disrupted by the pandemic. Founder and CEO  Peter Harrison hopes this year's results mark a return to normality, with demand increasing for almost all the group's current commercial antibodies.
Vitamin D testing remains the core of the group's business, with revenue up 13% to £5.4m (46% of total).
However, sales of other historic antibodies were broadly higher, while troponin antibody sales continued to show good growth, doubling to £1.2m. Troponin antibodies are used in heart attack diagnostics and are a relatively new product for the group.
Bioventix believes troponin sales are gathering momentum and should continue to grow. However, it's worth remembering that the company's royalty licence for troponin expires in 2032, so this isn't likely to become a long-term moneyspinner.
Profitability: Bioventix only has one small facility in Fareham and a handful of staff. The company sells a few grams of antibodies each year to diagnostic companies, and then earns additional royalties when the resulting test kits are sold on to end users (typically, hospital labs).
Bioventix's customers include companies such as Roche Diagnostics, Siemens Healthineers and Abbott Diagnostics.
This business model is fantastically profitable and cash generative. Bioventix generated an operating margin of 79% last year and a return on capital employed of 78%. Both figures are towards the upper end of the company's historic range: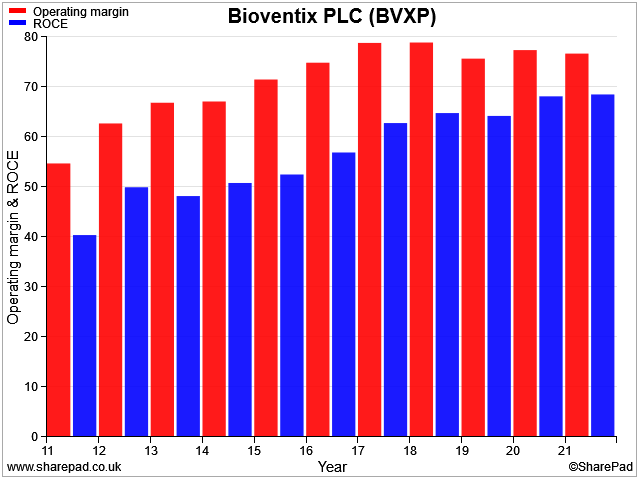 Cash flow: Free cash flow rose to £7.6m (FY21: £6.1m), mirroring the increase in after-tax profit to £7.7m (FY21: £6.7m).
These numbers demonstrate Bioventix's excellent cash conversion from profits; perhaps one reason why management don't feel the need to use any adjustments in the accounts.
Net cash ended the year at £6.1m (FY21: £6.5m) after £7.9m of dividend payments (FY21: £7.7m).
Dividend: Bioventix declared interim dividends of 52p per share and 74p per share with respect to the FY22 financial year. There was also a special dividend of 26p per share, reflecting the board's view that a net cash balance of £5m is sufficient to run and develop the business.
Total dividends for FY22 were 152p, giving the stock a trailing yield of 4.3% at the time of writing.
Outlook: On a near-term view, Bioventix expects to be able to deliver underlying sales growth of 8%-10% per year. This assumes that further growth in sales of troponin and some other antibodies will replace lost revenue from NT-proBNP (which ceased in 08/21).
Looking further ahead, shareholders will have to remain patient. The company is at pains to emphasise that the lead time between research work and royalty revenue is typically between four and 10 years.
Based on research undertaken in recent years, Bioventix says that some of the more probably areas of future commercial succes include tests for industrial pollutants and Alzheimers.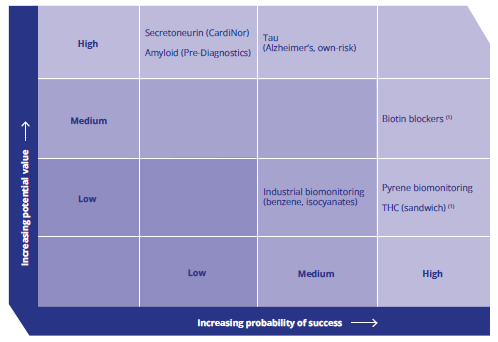 Management say they're confident that the current pipeline of opportunities "will create additional shareholder value in the period 2026 to 2036".
My view: My quality dividend investing strategy is built around the idea of finding businesses that can create shareholder value and translate this into a reliable, growing cash income for shareholders.
I believe Bioventix fits this description. As the chart below shows, this business has consistently created and realised value for its shareholders since its 2014 flotation: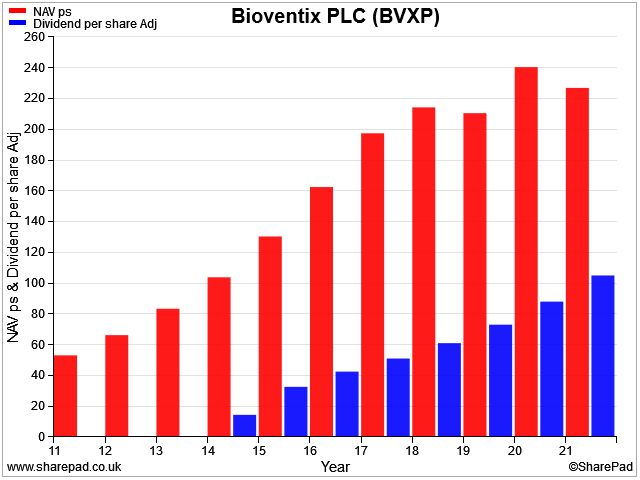 Of course, past performance is no guarantee of the future. Bioventix admits it faces increasing competition from the Chinese domestic antibody manufacturers. The business is still heavily reliant on Vitamin D testing, too, which is now a fairly mature market.
At current levels, I would say the shares are fairly priced, rather than cheap.
I'll probably wait for another market slump before buying more, but I remain very comfortable holding Bioventix in the model portfolio, and in my personal holdings.
Disclosure: Roland owns shares of Bioventix.
---
To make sure you don't miss out on future articles, please hit subscribe to receive all my posts by email and gain access to member-only areas of the site.
I'll be adding a comment facility to this site shortly; I look forward to your feedback over the coming months. In the meantime, you can always reach me on Twitter @rolandhead or by email at mail@rolandhead.com.
Disclaimer: This is a personal blog. The information provided is for information and interest. Nothing I say should be construed as investing advice or recommendations. The investing approach I discuss relates to the system I use to manage my personal portfolio. It is not intended to be suitable for anyone else.
You should carry out your own research and make your own investing decisions. Investors who are not able to do this should seek qualified financial advice. Reasonable efforts are made to ensure that information provided is correct at the time of publication, but no guarantee is implied or provided. Information can change at any time and past articles are not updated.